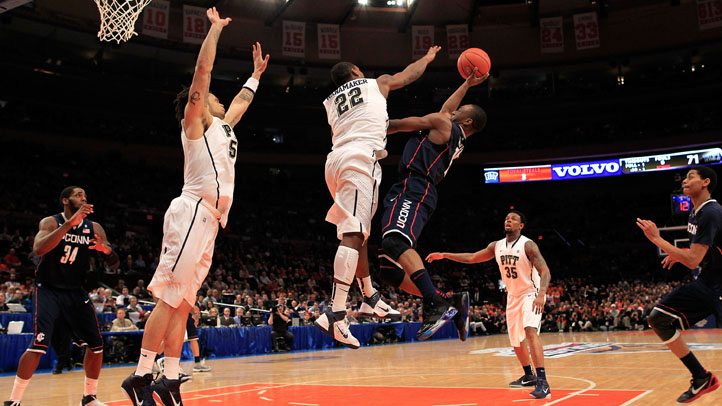 It's been five weeks since UConn played Syracuse, a forgettable effort in the middle of a rough stretch for the Huskies. Kemba Walker scored just eight points on 3-for-14 shooting (including 1 for 6 from beyond the arc) and UConn lost, 66-58.

The Orange's stifling zone defense coupled with the Huskies' youth and inexperience made for a long night. It also provided other teams with a blueprint for how to attack UConn: force Walker to stay on the perimeter, hope he's having an off night from long range and make a team full of freshmen and sophomores to beat you. And for a few games the strategy worked.

Walker's game is all about creating off the dribble and getting to the rim. On the season, he is converting 48 percent of his shots in transition; in the half-court offense, that number drops to 40 percent. That's not to say Walker can't be effective in half-court sets (see, for example, Thursday's final play), it just limits a big part of his game.

But that's where his teammates come in. Still finding their footing early in the season, freshmen Jeremy Lamb and Shabazz Napier have played like grizzled veterans down the stretch. And their maturation means that Walker doesn't have to be great every minute he's on the court. Sometimes, good is, well, good enough.

"There were times when I struggled and I couldn't score," Walker said after beating the Panthers in the Big East Tournament quarterfinals. "And [Pitt] was playing me extremely hard and [Lamb and Napier] just stepped up and made big plays for this team."

The freshmen had played well in spots earlier in the season but the consistency and confidence didn't come until recently. The timing couldn't be better. And maybe that's why Syracuse coach Jim Boeheim isn't putting too much stock in their Feb. 2 meeting.

I don't take anything out of the Connecticut game,'' Boeheim said. "I don't think they played well. Kemba had probably his worst night of the year and we know that won't happen (Friday) night.''

If recent history is any indication, Boeheim is right. Walker is playing some of the best basketball of the season and despite averaging nearly 40 minutes a game the last few weeks, he seems unaffected.

"They're a team that can (play a string of consecutive games)," Boeheim added. "I think they really can. Kemba Walker can play eight nights in a row and they play a lot of guys. I don't see that being a factor at all. I mean, the year we won four games we were playing six guys and it was a factor and we got through it. We didn't have much left."

Part of Walker's success is due to the emergence of his supporting cast. But the Huskies have also faced fewer zone defenses, too. Pittsburgh preferred playing man-to-man and that allowed Walker to get into the lane where he's most dangerous. Syracuse is one of the best matchup zone defenses in the country and UConn can expect to see heavy doses of it Friday in the conference tournament semifinals.

Sophomore center Alex Oriakhi helped put the Huskies' postseason run into perspective. "It's definitely overwhelming that we came this far. Our whole motto is Maui and Manhattan. It's not over. It's just the semis. Might as well take the whole thing if we made it this far."

The last time UConn and Syracuse met in the Big East Tournament the game went to six overtimes and lasted almost four hours. The Orange eventually won, 127-117. If it happens again tonight expect to see Walker out there for all 70 minutes. In fact, I'd be more surprised if he played something less than that.