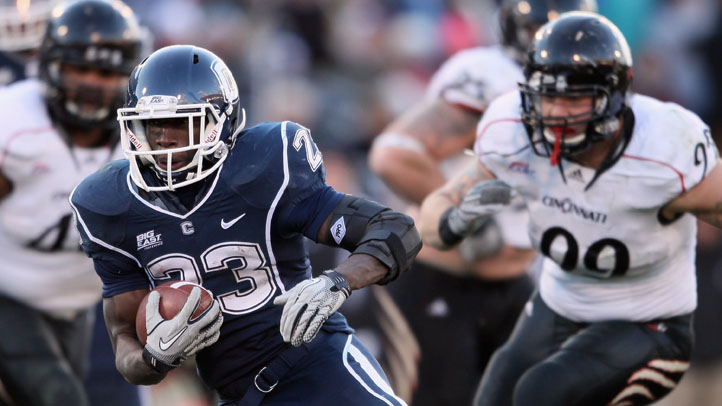 Football coaches have an old saying: the tape doesn't lie. Specifically, they're talking about the game tape and that, upon viewing, any player's strengths or weaknesses will show through. It's the primary means by which player ability is determined, and it's a critical component in when (or if) an NFL team decides to draft a college player.

After their final college season, players often head to Florida or Arizona to train for the NFL Combine, a meat market of sorts that further proves (or disproves, as the case may be) that a player is capable of competing at the next level. And the last, best chance comes at pro day, held after the combine and several weeks before the NFL Draft. Coaches, scouts and front-office types travel to universities (where pro days are often held) to get a final glimpse at prospects. For a group of former Huskies, Wednesday was their last chance to shine before the big day.

Eleven players participated, including well-known names -- like guard Zach Hurd and running back Jordan Todman -- and one that many NFL teams have never heard of: Derek Chard. He was UConn's long snapper the last two seasons and just like every other player in attendance, he was hoping to open a few eyes.

But there's a huge difference between a big-play running back and the guy responsible for snapping the ball on field goals and punts. Long snappers, typically, aren't drafted. More than that, their road to the NFL is a long one. Chard attended a "specialists combine" last month in Arizona and he talked to some NFL long snappers about their professional journey.

"One said it took eight years (to get in the NFL)," Chard said, according to TheDay.com. "The other one said it took three. They said if you want to do it, it's going to take that long. If it's something you really want to do, you have to keep getting lessons, keeping tweaking it, keep going to camps, keep going at it.

"That was a little tough to hear. Everyone wants to boom (be drafted). It takes a little while and it takes some hard work."

That's a far cry from, say, Donald Brown, the former Huskies running back who was drafted 27th overall by the Colts in 2009. The great irony is that teams don't go far without a good long snapper (even though they can get away without a consistent running game). In 2008, the Steelers lost their starting long snapper during a regular season game against the Giants, had to use linebacker James Harrison as the backup, and in his only attempt, he launched the ball over the punter's head and out of the end zone for a safety. Pittsburgh led 14-12 until then, and went on to lose 21-14.

The problem, of course, is that there are a lot of competent long snappers. And unlike running backs, who might be at the top of their game for 3-5 years, long snappers can play at a high level for a decade. That reality means the possibility of an eight-year weight to even get a shot.

Chard understands those odds. "I think about [the fact that long snappers aren't drafted] every once and a while, but it's not everything for me," Chard said. "It's something I'll give a shot and see what happens."