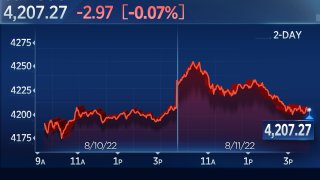 Stocks struggled for direction on Thursday as investors mulled another better-than-expected inflation report.
The S&P 500 closed down 0.07% at 4,207.27, while the Nasdaq Composite slumped 0.58% to end the day at 12,779.91. The Dow nudged upward by 27.16 points, or 0.08%, to finish at 33,336.67. The three major averages opened the session higher but lost steam as the day progressed.
Investors received more good economic news when the July producer price index showed a surprise decline from June. PPI dropped 0.5%, compared with an estimate of a 0.2% gain, according to a Dow Jones survey. The PPI reading excluding food and energy rose less than expected.
That reading follows an encouraging consumer price index for July on Wednesday. CPI came in at 8.5%, slightly cooler than the 8.7% expected by analysts surveyed by Dow Jones and a slowing pace from the prior month.
Stocks rallied after Wednesday's report and again Thursday morning, but the uptrend waned later in the day.
"Investors, while they're relieved that inflation is declining, it doesn't change the fact that Federal Reserve will continue to be hiking rates. ... I'm not quite sure at this juncture that people want to give the all-clear sign, but I do think sentiment is much better than it was, say, 60 days ago," said Wayne Wicker, chief investment officer at MissionSquare Retirement.
One bright spot for markets was Disney. The stock jumped more than 4% after the media giant posted stronger-than-anticipated subscriber numbers for the last quarter, along with earnings and revenue that topped expectations. Disney also said it would raise prices for Disney+.
Nasdaq falls, S&P 500 is little changed
The S&P 500 and Dow ended nearly flat on Thursday, while the Nasdaq slipped about 0.6%.
— Jesse Pound
Short interest in Ark Invest funds continues to decline
Short interest in the ARK family of ETFs continues to fall, with total short interest falling below the $2 billion level, down from over $3 billion at the end of 2021, according to data from S3 Partners.
The decline in short interest was particularly significant in Cathie Wood's flagship active fund Ark Innovation ETF (ARKK), the data showed. Short interest in ARKK has dipped below the $1 billion level for the first time since February 2021, S3 said.
Wood's disruptive technology darlings have been among the biggest losers this year in the face of rising rates. However, there have been signs of a rebound as of late after ARKK enjoyed a monthly gain in July, its first positive month since October. ARKK is still down 47% year to date.
— Yun Li
Stock market heads south as energy complex heads north
Stocks are sitting near their lows of the day in the final hour of trading as crude oil, but especially natural gas futures, score impressive gains and upset Wednesday and Thursday's earlier narrative that inflation is rolling over.

That "peak inflation" belief has been fueled in part by what had been, until now, weaker energy prices throughout the summer, plus the latest headlines that gasoline prices had fallen to the lowest since March.

As a result, the energy complex is sharply higher Thursday. Devon Energy (7.2%), Marathon Oil (6.2%) Schlumberger (5.8%) and Diamondback Energy (5%) are four of the S&P 500's five leading gainers.
Also higher: Marathon Oil, ahead 6.6%; Occidental Petroleum up 5.1%; Pioneer Natural adding 4.9%; and Conoco Phillips higher by 4.5%.

-- Scott Schnipper
Stocks slump into final hour of trading
With less than an hour left in the trading day, the tree major averages have turned negative. The Nasdaq Composite is down 0.7%, while the S&P 500 slipped 0.2%. The Dow is marginally negative.
— Jesse Pound
Xi told Biden that U.S.-China should maintain 'peace and security,' Journal reports
Chinese leader Xi Jinping told President Joe Biden ahead of House Speaker Nancy Pelosi's visit to Taiwan that he had no intention of going to war with the U.S., according to a report from the Wall Street Journal.
Xi told Biden that both the U.S. and China need to "maintain peace and security," the Journal reported.
China has run military exercises near Taiwan since Pelosi left the region. Fears of a war over Taiwan have been heightened this year, with some foreign policy experts drawing parallels to Russia's invasion of Ukraine.
— Jesse Pound
Apple accounts for more of the S&P 500 than any stock since at least 1980, Compound Capital Says
Charlie Bilello of Compound Capital Advisors says in a tweet that going back at least as far as 1980, no stock — not IBM, Microsoft or Exxon Mobil — has ever accounted for so much of the S&P 500 as Apple does today.
Apple's weight in the index today? About 7.3%.
(By the way, Apple's small ~0.1% gain today means it's down less than 7% year to date versus Nasdaq Composite down about 19%).
— Scott Schnipper
Mortgage rates pop back above 5%
The interest rate for a 30-year fixed rate mortgage jumped back above 5% this week, according to data from Freddie Mac.
Mortgage rates have generally cooled since reaching 5.81% in late June, but this week's 5.22% is still approaching double the rate Americans could get a year ago.
The housing market has been one of the first parts of the economy to feel the impacts of the Fed's rate hikes.
— Jesse Pound
Too early to 'declare victory' against inflation, Fed's Mary Daly tells Financial Times
Federal Reserve official Mary Daly said it is too early for investors to "declare victory" against inflation after a better-than-expected report this week cheered investors.
"There's good news on the month-to-month data that consumers and business are getting some relief, but inflation remains far too high and not near our price stability goal," Daly told the Financial Times on Wednesday.
"This is why we don't want to declare victory on inflation coming down," Daly said. "We're not near done yet."
Traders are deliberating how aggressively central bank policymakers will raise rates in September after the rise for the consumer price index slowed to 8.5% in July, a lighter than expected print because of falling energy prices. On a month-over-month basis, CPI was flat.
Still, many on Wall Street warned that inflation remains near their highest levels in decades.
Daly maintained that a 50 basis point hike in September is her "baseline" expectation, according to the report.
— Sarah Min
Pfizer drops 3% amid concerns about recalled heartburn drug
Shares of Pfizer fell more than 3% Thursday as the pharmaceutical giant got caught in a flurry of lawsuits alleging that the once-popular antacid Zantac causes cancer. Pfizer acquired Zantac 75mg OTC drug in 2000 and started selling it in 2004.
French multinational pharmaceutical Sanofi, also involved in the lawsuit, saw its shares drop more than 4%.
Still, Wells Fargo said concerns about Pfizer's involvement with Zantac woes might be overblown.
"It seems that PFE's involvement in the sales and marketing of Zantac is very small and only pertains to a period from 2000-2006," Wells Fargo analysts said in a note. "We think the weakness in PFE stock appears unwarranted as their liability may be minimal if any from our understanding."
— Yun Li
Nasdaq struggling in midday trading
The Nasdaq Composite has dipped in and out of negative territory and is now bouncing near the flatline in midday trading. Software stocks such as Zoom Video and Atlassian are weighing on the tech-heavy index.
The Dow and S&P 500 are holding on to modest gains.
— Jesse Pound
Stock market rally faces tough sledding from here, Josh Brown says
The nearly two-month rally for stocks has brought the S&P 500 more than 15% above its June low, leading many on Wall Street to debate whether this is just a bear market rally or the start of a more long-lasting uptrend.
Ritholtz Wealth Management's Josh Brown said Thursday that the market may have already accounted for the economic difficulties that have hit the U.S. in recent months but that the rally would need to slow from here.
"Maybe we have seen enough, but I don't think that justifies a race right back to the old highs. I don't think we're going to get the traditional v-shaped recovery," Brown said on "Halftime Report."
Brown pointed to the Federal Reserve's recent rate hikes and the ramping up of its balance sheet runoff program as headwinds for markets going forward.
"We don't know how the market's going to handle that. What we know about quantitative tightening is that last time didn't go so well," Brown said.
— Jesse Pound
Stocks lose steam, Tesla falls
Stocks are losing some steam in midday trading, and the Dow is now up about 180 points. The Nasdaq is up just 0.2%.
Part of the weakness is due to Tesla, which is down 1.6%.
—Jesse Pound
Goldman, Wells Fargo up 2%
Bank stocks were outperforming on Thursday, with shares of Goldman Sachs and Wells Fargo each adding about 2%. Citigroup rose 1.9%.
Bank stocks may have been helped by developments in the bond market, where the yield curve steepened as short-term fell and long-term rates rose.
—Jesse Pound
Nasdaq gains 1% as Chinese tech stocks rise
Stocks have added to their initial gains, and the Nasdaq Composite has pushed above a 1% move for the session.
The tech-heavy index is being bolstered by Chinese internet stocks, with Pinduoduo jumping 9%. The KraneShares CSI China Internet ETF is up 5% and on track for its best day since June 14.
-Jesse Pound
Oil stocks climb
The energy sector took the lead in early trading, helped by a 2% rise in crude oil futures.
Shares of Devon Energy, Baker Hughes and APA all rose more than 4%, making them the top movers in the S&P 500 behind Disney.
-Jesse Pound
Stocks open higher
Stocks picked up where they left off on Wednesday, with the Dow jumping 200 points at the market open. The S&P 500 and Nasdaq Composite rose 0.6% and 0.7%, respectively.
Disney has held onto its premarket gains and is up by more than 7%.
-Jesse Pound
Drug makers GSK and Sanfoli fall on Zantac litigation concerns
Drug makers GSK and Sanfoli slid 8% and 7%, respectively, in premarket trading amid increasing concerns by investors about the ongoing litigation involving the recalled heartburn medication Zantac.
Several drug makers have been accused in various lawsuits of failing to warn users about health risks associated with the over-the-counter product. Zantac is facing some key court trials in early 2023, according to Bloomberg.
In 2019 the Food and Drug Administration found an impurity in Sanfoli's Zantac that could cause cancer, and ordered its products be taken off pharmacy shelves, including generic versions of it, the following year.
— Tanaya Macheel
Another encouraging inflation report
Producer prices, which measures wholesale prices paid by companies and could be viewed as a leading indicator of future consumer inflation, decreased by 0.5% in July from the prior month. Economists polled by Dow Jones had expected a 0.2% increase. The July decline was largely due to falling gasoline prices.
Futures liked the news with Dow Jones Industrial average futures extending morning gains after the report and were last up 245 points.
This number follows the Wednesday's consumer prices report, which showed a smaller-than-expected increase in prices and sparked a big rally for the market.
-John Melloy
Six Flags tumbles after attendance drops sharply in the second quarter
While Disney's park division reported a big quarter, rival Six Flags' results came in way under expectations.
The company reported 53 cents in earnings per share on $435 million of revenue in the second quarter. Analysts surveyed by Refinitiv were expecting $1.01 in earnings per share on $519 million in revenue.
Attendance was down 22% year over year. CEO Selim Bassoul called it a "transitional year" for Six Flags as the company hikes ticket prices.
The stock was down more than 13% in premarket trading.
— Jesse Pound
IPO slowdown, buybacks led to record net equity withdrawal in first half, JPMorgan says
The number of stocks available for investors shrank in the first half of the year, which may have helped stem the losses for the market, according to JPMorgan.
Strategist Nikolaos Panigirtzoglou said in a note to clients on Tuesday night that net equity withdrawals by the corporate sector hit a record high in the first half, due to a the sharp slowdowns in IPOS and a rise in buybacks.
"Such strong net equity withdrawal implies that corporates cushioned this year's equity market correction by offsetting some of equity investors' selling," the note said.
However, that pattern has slowed in recent months.
"Admittedly, corporate behavior could change if recession dynamics kick in during the second half of the year. Indeed, so far in Q3, there are signs of significant slowing in net equity withdrawal," the note said.
—Jesse Pound
Disney up even more in premarket trading
Disney shares are extending gains in premarket trading Thursday with the shares now up 7.7%. The company reported better-than-expected earnings, revenue and streaming subscriptions after the bell.
If those gains hold, it will be the biggest one-day jump for the Dow member since 2020.
-John Melloy
The Fed might 'blink and bail' before inflation gets back to 2%, economist says
TS Lombard's Steven Blitz said the U.S. must have low growth and high unemployment for an extended period of time in order to bring inflation back down, but the Fed may not be willing to do that.
"I think they blink and bail," he told CNBC's "Squawk Box Asia."
"If you want to believe that they'll keep growth low and unemployment high for a year in order to get back to 2% — God bless them if they do — but I wouldn't bet on it," said Blitz, who is chief U.S. economist at the macroeconomic research firm.
He said the inflation impulse in the economy is based on very strong demand because of "very high nominal wage growth" and low unemployment.
There is a "fundamental imbalance" in the labor market that needs to be cooled down, he said, predicting that unemployment will need to get to around 5.5% to bring inflation down.
— Abigail Ng
European markets mixed as investors assess inflation, earnings; Aegon up 8%
LONDON — European markets were mixed on Thursday as investors assessed their monetary policy expectations after a cooler-than-expected U.S. inflation print, and digested a raft of corporate earnings.
The pan-European Stoxx 600 hovered 0.1% higher in early trade, with oil and gas stocks climbing 1.4% while basic resources fell 0.7%.
It was another bumper day for corporate earnings in Europe, with Siemens, Thyssenkrupp, Bilfinger, Novozymes, Rabobank, Zurich Insurance, M&G, Deutsche Telekom and Aegon among the major companies reporting before the bell.
Aegon shares climbed more than 8% in early trade to lead the Stoxx 600 after the Dutch insurer raised its full-year guidance.
- Elliot Smith
Top investor Paul Meeks reveals 'must own' chip stock
Semiconductor stocks have endured a difficult year so far, but top tech investor Paul Meeks is still a fan of the sector, he told CNBC Pro Talks on Wednesday.
He described semiconductors as the "21st century gold" and names one chip stock that he thinks investors "must own."
Meeks also discussed how the newly passed Chips and Science Act will impact U.S. semiconductor companies and reveals which major chip firm has "lost its mojo."
CNBC Pro subscribers can read more about what Meeks said about the key tech sector.
— Zavier Ong
Cramer says 'peak inflation is nirvana for stocks'
CNBC's "Mad Money" host Jim Cramer said that inflation is nearing its top, and that bodes well for investors looking to pick up shares they might have dumped earlier this year.
"Peak inflation is nirvana for stocks, especially for out-of-favor stocks, like fast-growing tech plays or the financials or the consumer discretionary names," he said. "That means you can buy everything from Microsoft to Wells Fargo to Target, and even to Disney."
He said, however, that does not mean that the economy is out of the woods when it comes to a potential recession.
"Some companies will absolutely be hurt by the upcoming recession, but others will see their stocks soar because they're worth more in an environment where inflation is at last possibly under control," the "Mad Money" host said.
— Lee Ying Shan, Krystal Hur
Citi says it's a bear market rally and shares how to beat the volatility
Citi and Goldman Sachs say the recent bounce back in stocks is just a bear market rally, warning it may not last.
Analysts from both banks spoke with CNBC's "Squawk Box Asia" this week before Wednesday's rally stateside. U.S. markets have generally rallied in July and August.
Kristen Bitterly, head of North America investments at Citi Global Wealth Management, said to expect more volatility ahead and explained how investors can position their portfolios in the current market.
Pro subscribers can read more here.
— Weizhen Tan
Inflation is headed in the right direction but 'we're not out of the woods', Oanda's Moya says
While Wednesday's July CPI report signaled that inflation is moving in the right direction and lifted investor sentiment, more pain could still be in store, said Ed Moya, senior market analyst at Oanda.
"We're in this wait-and-see mode where we're going to look to see if inflation does continue to ease as quickly as this report has had it, but we're not out of the woods just yet," he said. "This is still a market that is vulnerable to inflation shocks."
— Samantha Subin
Stock futures open flat on Wednesday
Stock futures opened flat on Wednesday after markets rallied during the regular trading session.
Futures tied to the Dow Jones added 0.06% or 19 points, while S&P 500 futures inched 0.04% lower. Nasdaq 100 futures dipped 0.12%.
— Samantha Subin
Sonos, Bumble tumble in extended trading
Shares of Sonos and Bumble both tumbled in extended trading after reporting earnings for the recent quarter and slashing their respective full-year outlooks.
Sonos' stock dropped more than 19% after the company missed revenue and earnings estimates for the recent quarter and cut its full-year outlook.
Shares of online-dating stock Bumble slumped more than 12% after trimming its guidance as it faces foreign exchange and inflation headwinds. The company beat revenue estimates for the period.
— Samantha Subin
Disney jumps more than 6% after beating estimates
Shares of Disney jumped more than 6% in after-hours trading as the entertainment company topped subscriber estimates for the recent quarter and posted a strong earnings beat.
Disney said subscriptions for Disney+ rose to 152.1 million during the fiscal third quarter, topping expectations according to StreetAccount.
The company also beat earnings and revenue estimates for the recent quarter, noting that revenues within its parks, experiences, and products segment rose 72% year-over-year as attendance and occupied room nights ticked higher.
At the same time, Disney announced that it would hike prices on its Disney+ platform without ads, while its ad-supported tier launching in December will cost $7.99 per month.
— Samantha Subin
Copyright CNBCs - CNBC