The state's COVID positivity rate is 6.05% as 113 more deaths have been reported since Thursday.
Over the past four days, just shy of 8,500 COVID tests came back positive. Nearly 140,000 tests were administered.
Since the virus emerged, over 181,000 people have tested positive for the virus in Connecticut.
Net hospitalizations increased by 19, bringing the total to 1,219.
The coronavirus death toll is now 5,904.
Governor Ned Lamont said he is watching the state's numbers are New York and Rhode Island both see flare-ups in COVID cases.
On Dec. 24, the state's COVID-19 positivity rate was 5.43%.
What the COVID Relief and Funding Bill Means For Connecticut
President Donald Trump signed a COVID relief and government funding bill Sunday night after a week of threatening to veto the bill for its "low" direct cash payments of $600 to eligible Americans.
Of the $900 billion bill, Connecticut is expected to get over $4 billion in direct relief.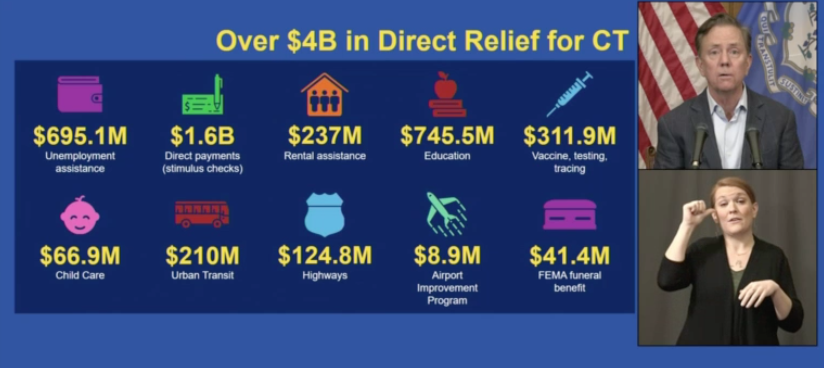 A large chunk of the money, $1.6 billion, will go toward stimulus checks, or direct payments to Connecticut residents.
Over $695 million in funding will go toward unemployment assistance and roughly $745 million will be used to aid education.
More than $311 million will support COVID vaccination, testing, and contact tracing, according to the governor.
The governor said that over $41 million will go toward FEMA funeral benefit. This money will be used to provide assistance grants to families in need.
A total of $237 million will be used for rental assistance and $210 million will provide for urban transit.
The governor said over $124 million will be used for highways.
The funding will also provide child care with $66.9 million. $8.9 million will be allocated to an airport improvement program.
Additional relief will also be available, including for small businesses and nonprofits.
There will be more PPP loans available through the Small Business Association.
CT COVID Vaccine Update
As of Monday, 36,276 doses of the COVID vaccine were administered across the state.
There are now 76 locations administering the vaccine to healthcare workers and eight more will be added this week, the governor said.
A total of 72 state nursing home clinics have been completed. The state is on track to complete first dose clinics at all nursing homes by early January.
Two-thirds of nursing homes in Connecticut will have received the first dose of the vaccine by the end of this week. All second doses of the vaccine will be administered to nursing homes by the end of January, according to Lamont.
"All the residents are lining up and ready to get the vaccine. They're ready for it," Lamont said in a news conference on Monday.
Stories from NBCLX
LX, or Local X stands, for the exponential possibilities of storytelling in our communities.