The positivity rate went down to 3.55% overnight and COVID-19 deaths have surpassed 7,000.
With an added 44 deaths, the death toll is now 7,020.
Over 40,000 COVID tests were performed since Wednesday and 1,426 came back positive.
Hospitalizations have fallen below 100 with a net decrease of 21. There are now 995 people with the virus in Connecticut hospitals.
On Wednesday, the COVID-19 positivity rate in Connecticut was 4.4%.
The state is in phase 1b of the coronavirus vaccine rollout plan.
Healthcare personnel, long-term care facility residents and medical first responders were the first groups to be eligible for the vaccine. Connecticut residents who are 75 and older are now able to get them as well.
The next groups that will be eligible are people between 65 and 74, followed by frontline essential workers and people with an underlying medical condition with increased risk for severe illness.
People in congregate settings will be phased in throughout Phase 1b.
Learn more about how to get a vaccine here.
Expanding Access to Vaccines
State officials are making it easier to sign up for an appointment to get the COVID vaccine.
People currently eligible for vaccination will now have access to an improved vaccine appointment assistance line.
Current wait times are down to approximately three minutes and there are now 80 additional people taking calls.
Many Connecticut senior centers are now helping with enrollment, according to Gov. Ned Lamont.
To make an appointment via phone, you can call 877-918-2224.
Vaccines Administered Across Connecticut
So far, a total of 364,255 COVID vaccines have been administered to people in phase 1a and 1b.
Of that number, 299,876 were first doses and 64,379 were second doses.
Connecticut is now number 3 nationally in terms of vaccine distribution.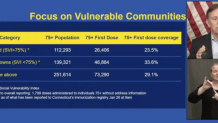 Lamont said 35% of people 75 and over are now vaccinated.
There will be a 16% increase in first doses next week, the governor said.
Stories from LX News
LX, or Local X stands, for the exponential possibilities of storytelling in our communities.