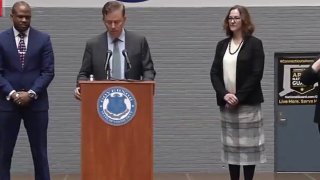 A South Windsor company is making 3D-printed face mask frames using technology developed at the University of Connecticut and the governor toured it today.
Gov. Ned Lamont Lt. Governor Susan Bysiewicz, U.S. Senator Richard Blumenthal, and UConn President Tom Katsouleas toured Connecticut Biotech, a start-up company in South Windsor that is using technology that was developed at UConn.
The goal was to create a custom mask frame that makes regular surgical masks more protective and help secure filtration.
Don Vaccaro, of Connecticut Biotech, said this project started with a conversation of measuring antibodies.
He said that removing the air gaps in surgical masks increases the efficacy of the mask and the product mede with UConn's technology is aimed to increase the effectiveness of masks and not take N95 masks from healthcare workers who need them.
Katsouleas said they were able to go from the invention to the commercialization of the product in six weeks.
The company is outfitting teachers in Middletown schools with the technology.
Vaccaro said they have several orders, expect to clear the backlog quickly, and the focus will be to make mask frames for healthcare workers first.
They are custom made to fit the user.