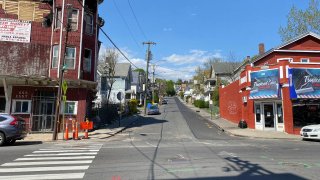 Police are investigating after one person was killed and another person was injured in a shooting in Waterbury late Saturday night and they have arrested a suspect in the fatal shooting.
Officers responded to the intersection of East Main Street and Wall Street around 11:30 p.m. after getting a report of someone who had been shot multiple times and found 23-year-old Gregory Rafael Santos-Frias, of Waterbury. He died at the scene, police said.
Police said officers also found another person who had been shot in the leg. He or she was transported to a local hospital to be treated and has been released.
Charles Smith, 41, has been arrested in connection with the death of Santos-Frias and police said he was charged with murder, conspiracy to commit murder, assault in the first degree, conspiracy at assault in the first degree, criminal possession of a firearm, criminal use of a firearm, carrying a pistol without a permit, illegal sale or transfer of a firearm, weapons in a motor vehicle, unlawful discharge of a firearm and reckless endangerment in the first degree.
Police said Smith is on parole for a robbery in 2012 and he was found with a gun while he was arrested.
Smith is being held on a $2 million bond.