Officials said two people are dead as they continue to investigate two separate shootings in Hartford that happened Friday night.
The shootings took place minutes apart from each other.
One person died in a shooting at the intersection of King and Webster Street near Maple Street. Police confirmed the shooting was fatal, but no further information was immediately available.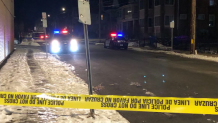 Police are investigating another shooting at 1994 Main St. which was also fatal. Officers responded to the residence at approximately 9 p.m. on Friday and they say the shooting took place on the first floor.
There are no suspects and the identities of both victims have not yet been released, police said.
Officers were at the scene of both shootings on Friday night.