Almost all flights have been canceled at Bradley International Airport on Thursday as a blizzard dumps snow on Connecticut and many airlines are waiving fees due to the blizzard.
The airport itself is expected to see between 8 and 12 inches of snow from this storm.
Bradley Airport said Thursday afternoon that around 90 percent of flights have been canceled for the day and more cancelations are expected as the storm progresses.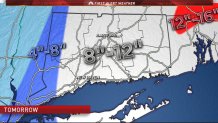 Travelers should check with their airline for details on their specific flight and any rebooking options before heading to the airport.
Passengers likely will see delays or cancellations on Friday as airlines try to catch up on their schedules.
Airport flight status information can be found online by clicking here.