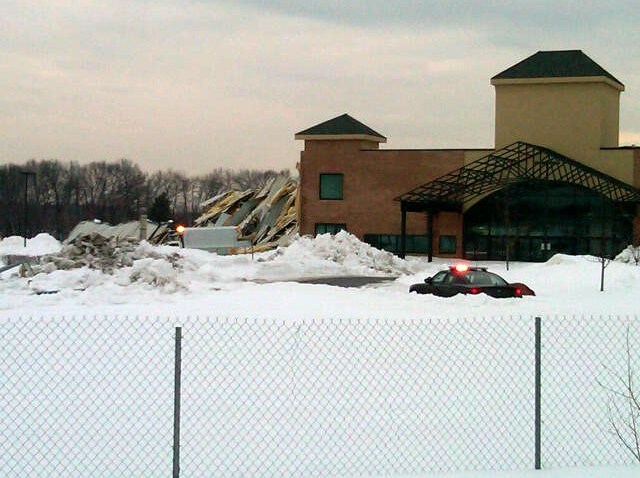 Five people barely escaped a roof collapse in Windsor when the roof of Mototown USA indoor motocross track at 1001 Day Hill Road came down Monday afternoon.
The owner and four workers had just finished clearing snow from the roof when they felt a rumble and ran toward the front of the building. Within seconds, they turned and saw the roof collapse and the building crumbled.
Fortunately, the facility is closed on Mondays, so no one was inside.
The Gold's Gym, Blimpies and Dunkin' Donuts at the site were not damaged and were expected to open on Tuesday,
An employee of Origin Healthcare, located near the site of the collapse, said they heard a thud and saw debris fly. Then, several payloaders, bucket trucks, ambulances and six firetrucks were at the scene.
Several buildings have collapsed across the state over the last week.
A four-car garage on School Street in Hartford buckled under the weight of snow and ice on Monday. Several cars were inside when it collapsed.
A warehouse on North Main Street in Middletwon collapsed this morning and there was a partial collapse of an RV dealership in Windsor Locks.
Follow us on Twitter @NBCConnecticut, on Facebook, and sign up for breaking news SMS alerts on your phone by texting "CTBREAKING" to 622669.