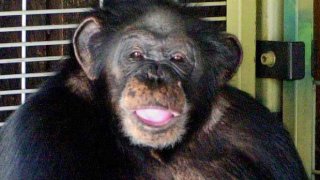 "He ripped her face off! Please, please hurry," screamed Sandra Herold into her phone. The 'he' was Travis, her 200-pound domesticated chimpanzee who went on a violent attack Monday in Stamford, Conn.

In an interview set to air on NBC's "Today Show" Wednesday, she said:


"He looked at me like, 'Mom, what did you do?' I tried to pull him but he was to strong, so I called 911 and told them to get up here as fast as possible."

In that graphic 911 call, Herold, the primate's owner, implored police to shoot the animal as it was attacking her friend, Charla Nash, 55. Herold had asked Nash to come over to help calm the chimp when he started acting up.

"They got to shoot him because I tried stabbing him and it didn't work. They gotta shoot him," she said.

Herold is at times frantic, at times sobbing. Travis could be heard squealing in the background.

Herold described a violent scene:

"He's eating her! He's eating her!"
"Bring the guns. You have to kill this chimp."
"She's dead… He ripped her apart."
"Her face?," a dispatcher asked.
"Everything."
Nash was not dead, but was severely disfigured. Wednesday, she remained in critical condition at a local hospital.

"Shoot him," Herold kept shouting into the phone. "Tell them to shoot him. Tell them to shoot him. Tell them to shoot him."
When police arrived, she continued shouting to them to "shoot him!".

Then came this over the crackle of the radio: "Person down, chimp outside."

Officers remained in their vehicles at first. Herold did the same.

But at some point, Travis the chimp tried to get into a squad car.

"It just opened up one of the patrol cars and we had to let a couple go," an officer said into a radio.

"Rounds fired," a dispatcher responded.

At that point, Travis went running back through the house. Some officers gave chase while others tended to the victim.

Nash's injuries were so serious that an officer presumably couldn't tell her gender. "Hey listen," one officer said over the radio, "We've got to get this out of here. He's got no face."

The attack lasted 12 minutes, which must have felt like an eternity.


* * *
On Tuesday, Capt. Richard Conklin, of the Stamford Police Department, said that the Department of Environmental Protection "turned a blind eye; that they allowed the couple to possess Travis."

The investigation into what caused the chimpanzee to attack continues. They are trying to determine if the chimp's actions were caused by a bout of Lyme disease, a reaction to drugs or a case of instinct taking over.

Police said the primate's head and torso have been separated so a state lab could test for rabies, as required under state law. The body has been transported to the University of Connecticut for a necropsy, an animal's version of an autopsy.