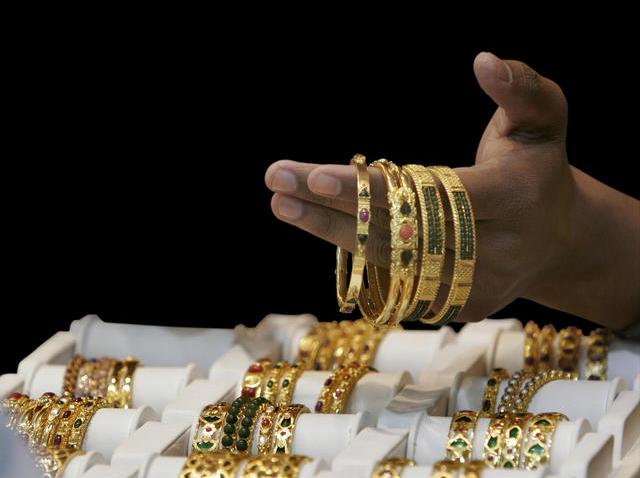 Thousands of people traveled to Milford on Monday with hopes that the gold in their jewelry boxes and drawers might be worth a small fortune.
Eugene Bascou, of Pasadena, California, runs the "Buyer's Road Show," which is happening in a Milford hotel. It was originally scheduled for six days but will now run for nine – through Tuesday.
"This particular city, Milford, has been a very popular show. We actually extended our show," he said.
Pat Dimenno read about the "Buyer's Road Show" in the newspaper and decided to check it out.
"I brought in some old jewelry I had. It wasn't worth much, but it was fun," she said.
She was one of more than 3,000 people to visit the hotel to cash in on stuff lying around their homes.
A three-page advertisement in newspapers, including the New Haven Register, helps draw the crowds.
The sky-high price of gold doesn't hurt either and coins were almost as popular as jewelry.
Kathleen Ayers and her husband, Royal, of Hamden, brought coins that they thought were collectors' items. It turns out they won't worth anything.
"Unfortunately, it's plated," Kathleen Ayers said. "So it's worth nothing. And these are brass and he said they're worth nothing."
Cynthia Mahan, of Bridgeport, made the trip to see what her shopping bag of old coins were worth. Turns out not much.
"It was all over the newspaper," Mahan said, "I thought I could get a little extra cash but I'm taking my money home."
If you go, experts advise making sure you have an idea of what your items are worth. NBC Connecticut brought in some old jewelry to see what the scrap gold would be worth.
Bascou appraised it all at about $182. The same jewelry was appraised at Becker's Jewelers in West Hartford for $210, but a pearl ring in the pile turned out to be more valuable and not worth scrapping.
What the Buyer's Road Show would have taken as about $50 worth of scrap gold, Becker's offered us $150 for.
"What would be $55 as scrap is actually $150 of estate jewelry," Tom Kelly, manager of Becker's. told us.
Kelly said it is always good to do your homework and research before you just hand something over.