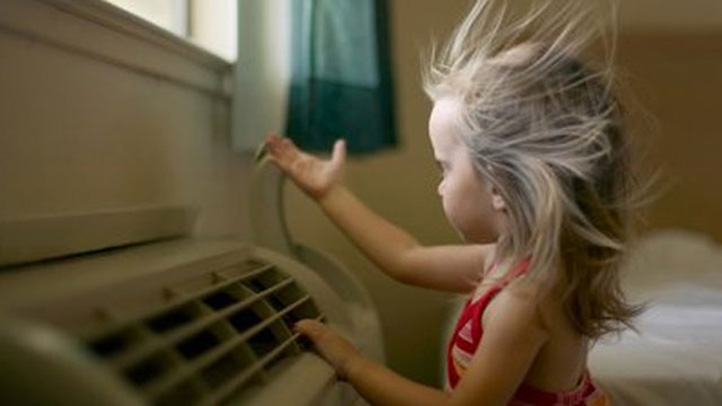 We have not reached the record 96 degrees, but it was still a hot day with temperatures between 90 and 95 degrees. And there is still one hot day to go before it begins to cool off.
The hottest spot in Connecticut on Wednesday is the valley in northcentral Connecticut from Hartford north to Windsor Locks. The temperatures hit 91 on Tuesday and the forecast is in the 90s again on Thursday.
If you are looking to cool off after work, all swimming areas are open, except for Mashamoquet Brook State Park, according to the State Swimming Area Water Quality Report.
If you're more of a beach person, Hammonasset, Silver Sands or one of the other beaches in the state might be on your agenda.
Local towns have opened cooling centers for people in need of a place to cool off,. Several cooling centers have opened in Hartford from Wednesday throughout the week until further notice.
Parker Memorial Community Center, at 2621 No. Main St., will be open from 10 a.m. to 8 p.m.
Pope Park Recreation Center, at 30 Pope Drive, will be open from 10 a.m. to 8 p.m.
Metzner Center, at 680 Franklin Ave., is open from 10 a.m. to 5 p.m.
North End Senior Center, at 80 Coventry St., is open from 10 a.m. to 5 p.m.
South End Senior Wellness Center, at 830 Maple Ave., is open 10 a.m. to 5 p.m.
Parkville Senior Center, at 11 New Park Ave., is open from 10 a.m. to 5 p.m.
Hispanic Senior Center, at 45 Wadsworth St., is open from 10 a.m. to 5 p.m.
Bridgeport is also operating a cooling center at the Greater Bridgeport Transit Main Bus Terminal at 710 Water St.,on Wednesday and Thursday, from 12 noon to 7 p.m. The American Red Cross will provide cold water.
Mayor Bill Finch's office issued a release advising residents to visit their local senior center or nearby library to stay cool.
The Connecticut State Police issues tips for pool and swimming safety:
Never leave children (even those who can swim) unattended in, around or near pools or other water sources – not even for a few moments. A child can drown in the moment it takes to answer a phone.
Never swim alone. Use the buddy system and maintain eye contact.
Keep pool area locked and secure when not in use.
Swim only in supervised and approved areas.
Keep rescue equipment near the pool. Have emergency flotation devices and a phone near the pool.
Enroll children in swim lessons.
Enforce water safety rules. No running, pushing or dunking.
Never falsely claim to need help in the water.
Take all toys out of the pool when not swimming so that children will not be tempted to go after the toys.
Learn CPR and water rescue techniques.
Have a professional inspect all entrapment hazards in the pool, including the pump and drain.
Know and mark the location of the electrical cut-off switch for the pool pump.
More hot weather tips:
Stay hydrated by drinking plenty of water--- especially the elderly, children, and those with respiratory illnesses.
Avoid prolonged work in the sun or in poorly ventilated areas.
Stay in cool, air-conditioned environments.
Do not leave children or pets unattended in vehicles.
Check in on elderly family members and/or neighbors often.
If severe weather strikes:
Pick a safe place in your home where there are no windows, skylights or glass doors.
Unplug appliances.
Have a flashlight ready and do not use candles.
Avoid opening the refrigerator or freezer.
We want your hot weather photos. Send them to us at photos@nbcconnecticut.com.