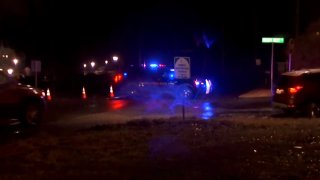 Two people have died after a crash on River Road in Shelton and another is in critical condition.
Police said a BMW and a Toyota RAV4 collided on River Road, between Murphy's Lane and Rocky Rest Road, around 11:30 p.m. Sunday.
Four people were in the BMW. Lily Pirulli, 20, of Monroe, and Adrian Miles, 31, of Ansonia, were pronounced dead at the scene, police said.
Meghan Nealy, 26, of Ansonia, is in critical condition. Police said the other person who was in the BMW was released from the hospital.
One person was in the RAV4 and the driver was evaluated at the scene and released.
The road was closed for hours and has reopened.
Anyone with information about the crash is asked to call the Shelton Police Department Traffic Division (203) 924-1544.