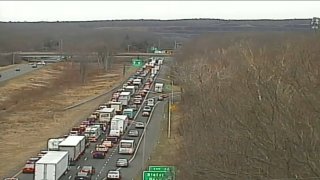 One person was killed in a wrong-way crash on Interstate 84 in Plainville Wednesday.
The crash happened just after 2 p.m. on I-84 West near Exit 33.
According to state police, 43-year-old Walter Turner, of Berlin, was driving the wrong way on I-84 and collided with another car.
Turner was pronounced dead at the scene.
The driver of the other car was taken to the hospital to be treated for minor injuries, state police said.
The westbound side of the highway was shut down for several hours.
Anyone who witnessed the crash or anyone who has a dashcam and drove through the area at the time of the crash are asked to call Trooper Michael Dean at (860) 534-1098.