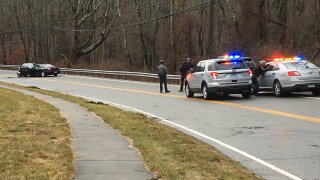 A woman was killed in a head-on crash in Colchester Friday, according to Connecticut State Police.
Police said 70-year-old Diane Wallis of Colchester was driving on Lebanon Avenue near Northern Boulevard when the car crossed over the double yellow line and collided head-on with another car. Wallis was taken to the hospital where she was pronounced dead.
The other driver, a 61-year-old man from Colchester, suffered serious injuries to his lower body and was taken to Backus Hospital for treatment.
The crash remains under investigation. Any witnesses are asked to contact Connecticut State Police Troop K.
No additional information was immediately available.