Officials have identified the woman killed during a house fire in Chester Sunday morning.
Authorities said 76-year-old Joan Carini, who was the homeowner, died in the fire.
Carini's daughter, husband and kids also lived in the home, according to Dick Leighton of the Chester Fire Marshal. She had another daughter who lived in Rhode Island, officials said.
Leighton said it was difficult for Carini to get around and go up the stairs. She lived on the first floor of the home.
"This house is well-known to our department because they have a lot of kids here," Leighton said during a Sunday night press conference.
Two others were injured during the fire. Both people have minor injuries and are expected to make a full recovery, officials said.
Two pets also died in the fire. One dog and one cat weren't able to be saved but fire officials said they were able to rescue several other pets from the home.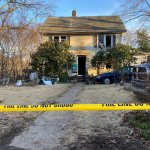 Emergency crews said they received a call about a fire at the home on Ridge Road with people trapped around 9:30 a.m.
Within two and a half minutes of the call, crews arrived at the home and said they found heavy fire with dark smoke billowing out of the first floor.
According to investigators, two people were trapped inside of the home.
Three people were transported to Middlesex Hospital to be treated for things including burns and smoke inhalation, fire officials said.
On Sunday afternoon, fire officials said Carini, who was among those transported to the hospital, later died.
Crews are still at the house investigating the cause and origin of the fire. They expect to remain at the scene throughout the night.
"We have no reason to believe there's a criminal aspect to this but we are looking at every aspect," said Paul Makuc of the state's Fire and Explosion Unit.
Makuc said fire officials are still going through debris to examine the structure and determine where the fire may have started.
Fire officials said the family had a lot of stuff inside the house so it took a while to get the fire completely extinguished.
At this time, the house is not livable, officials said.
The family displaced by the fire is staying in a hotel and Red Cross is assisting them.
Several fire departments responded to the scene to help put out the fire. Leighton said this is common practice for Chester's fire department because it's a small town.
The cause of the fire is under investigation.