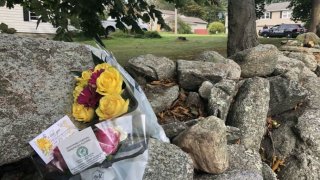 A 20-year-old woman found in Ansonia after a report of a car crash died of stab wounds, Ansonia police said Monday.
Officers in Derby notified the Ansonia Police Department about an evading vehicle crash involving a pedestrian on Coe Lane and North Coe Lane shortly before 5 p.m. Sunday, police said.
When police arrived at the scene, they said they found a 20-year-old woman with upper body injuries that were not consistent with a crash. Investigators said her injuries were more consistent with an assault.
The woman was transported to Griffin Hospital where she later died, authorities said. She has been identified as 20-year-old Rosali Acquefreda, of Derby.
The State of Connecticut Office of the Chief Medical Examiner ruled the death a homicide by multiple stab wounds.
Family members said Acquefreda leaves behind a 3-year-old son.
"She was a working mom. She worked hard for her family and for her child," her father Joseph Acquefreda Jr. said.
"I want to keep this short and simple, I just want justice for my sister," her brother Joseph Acquefreda III said. "That was my best friend, that was my sister, that was my everything. I want justice for her."
Detectives do have suspects and are following those leads, police said at a press conference Monday afternoon. A black Pontiac Aztec involved in the incident has been found and is Ansonia Police Department's custody, but they do not believe it is owned by the suspect.
Police do not believe this was a random act.
Investigators are looking to speak with anyone who was in the area and may have seen something. Police said a man and woman were seen riding a motorcycle through the area around that time and may be witnesses.
There will be a vigil for Acquefreda Monday night.
Anyone with any information is asked to contact Ansonia Police Department at (203) 735-1885. Tips can also be submitted anonymously through Tip411.