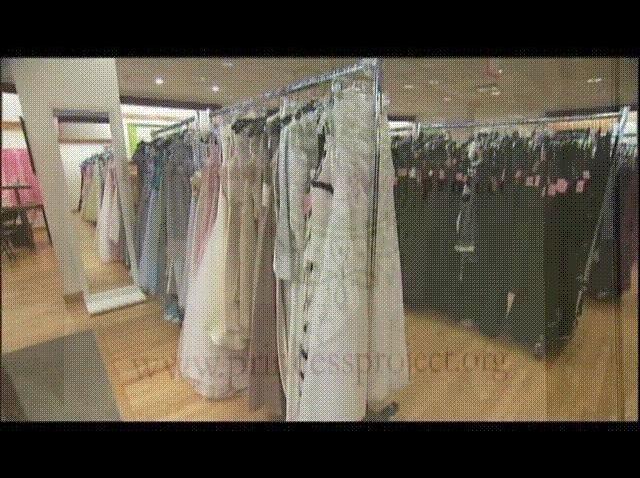 One by one, high school girls walked into the conference room at the Hilton Garden Inn in Windsor and sifted through a sea of dresses. They were trying to find a special gown they could call their own.
"First I was a little nervous, because I didn't know if I was going to find one, and then I did. I got one that's my favorite color purple," said Alyssa McCall of Colchester.
"My sister picked it out for me, actually. She picked out my stuff and I just liked it," said
Rashida Shockley
of
Bloomfield
, while trying on a sparkling coral dress.
The great thing about these dresses are they're free! The slightly-worn dresses were donated to the
Princess and the Prom
, a non-profit organization aimed to give financially-strapped teens a dress of their dreams.
"They look beautiful. They're so happy. They don't want to spend two to three hundred dollars on a dress, not everybody can afford it right now. So it's great," said
Cheryle Podgorski
, the founder of the program.
"I think Princess and the Prom is a really good name, because it was like dressing up like a princess, getting the experience, trying on dresses that you couldn't have found, and I found the perfect dress I feel," said
Dyesha Matos
of Wethersfield.
Whether the ladies wanted to be pretty in pink or radiant in red, there were 2500 dresses to choose from. The dresses were donated at
Best Cleaners
across the state, then dry cleaned and brought to the Hilton.
"I would recommend it to anybody with a daughter. The selection is very well, very well picked. And like I said, we came out with a very nice gown and I'm very happy," said Alice McCall.
The giveaway continues on Saturday and Sunday from 10 a.m. to 4 p.m. at the Hilton Garden Inn in Windsor. Podgorski says walk-ins are welcome.