Dry, sunny weather will continue through the weekend, with the only exception being Friday.
Overnight, clear skies will dominate as winds diminish. Lows will be in the upper 30s to near 40 degrees.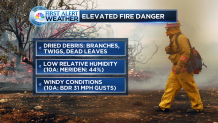 The National Weather Service has issued a fire weather watch for tomorrow. Even though there will be less wind, it is still very dry.
Tomorrow will be beautiful, with highs in the lower 60s under full sunshine.
Another mostly sunny day is on tap for Thursday, when it will be nearly 10 degrees above average with highs in the lower 70s.
Scattered showers will make Friday a gloomy day, but even when all is said and done, not much rain is anticipated.
How about the weekend?
Saturday is best, with lots of sunshine and highs in the lower 60s.
A cold front passes through at some point on Sunday, but it should be dry.
High temperatures will be near 60 under a blend of clouds and sun.
A pattern change puts an active storm track over Connecticut next week.
Showers are in the forecast on both Monday and Tuesday, and temperatures will be stuck in the 50s.