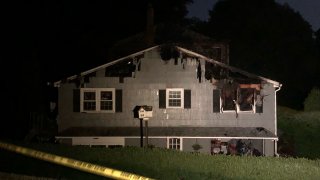 A dog is dead and two people were hospitalized after a fire broke out at a home in Watertown Monday night.
Firefighters said the fire broke out at a two-story house on Ledgewood Road.
A photo of the house shows damage to the roof and top floor of the home.
According to fire officials, everyone was able to get out of the house safely. Two people living in the home were having anxiety issues and were taken to the hospital as a precaution, authorities said.
There's no word on what may have started the fire. The blaze is under investigation.