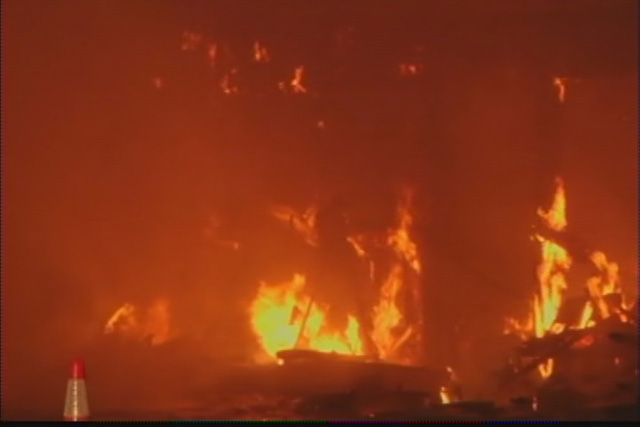 Fire has damaged at least eight businesses in Oakdale Plaza in Montville and most, if not all of the plaza, might have to be demolished.
Fire started around 1:15 a.m. on Chapel Hill Road on Tuesday and quickly spread. For almost four hours, firefighters battled the blaze from the outside because it was too risky to fight it from inside.
By 6 a.m., all that remained of Oakdale Café, a former bar in the plaza, is charred remains.
Dottie Yaworski, of the Oakdale Café, said the fire started in that bar.
"It's burned down to nothing," she said. "It's too bad too because every else is all out of work too. The whole complex."
The plaza, which is next to a firehouse, includes a pet grooming business, a bar, Oakdale Pizza and a Chinese restaurant.
Someone went directly to the firehouse and knocked on their door to alert them to the fire.
One challenge in fighting the fire was a detour set up because the bridge was damaged in last spring's flooding, so it took extra time for mutual aid to arrive.
Another issue is the lack of fire hydrants. Nine tankers had to haul water from Oxoboxo Lake.
"If we had water here available here at the street, it would have made a big difference as far as getting the fire out quicker," Lt. Micah Messer, of the Montville Fire Department, said.
Several businesses said they would rise from the ashes.
Annie Fotiadis, of Oakdale Pizza, plans to rebuild.
"We have a whole village behind us to support us, and we'll be back," she said.
Oakdale Café also plans to open.
"My mother always taught me, you fall down, you get back up," Yaworski said.
The fire marshal is investigating. While caused the fire is not yet known. Officials do not believe it is suspicious.