A Flash Flood Warning has been issued for parts of Hartford county. Heavy rain is causing flash flooding within the area. We have reports of flash flooding at Bishops Corner in West Hartford.
A Severe Thunderstorm Watch is in effect for all of Connecticut through 9 p.m.
Any storms that develop have the potential to become strong and possibly severe. The scattered storms are expected between 3 p.m. and 11 p.m., with the most numerous storms expected duirng the evening hours.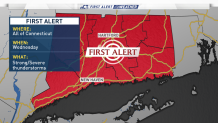 Heavy rain, small to medium-sized hail, vivid lightning, and locally damaging winds will be the primary threats as storms move through. There is a low risk for a tornado somewhere in New England.
Temperatures will be in the mid-80s.
Thursday will be warm and humid once again with some isolated showers and storms possible.
For the full forecast anytime, click here.