Flood warnings have been posted for the Connecticut River until further notice.
Typical spring flooding is occurring in low laying areas near the river and will continue through at least Thursday.
The river levels are expected to crest on Thursday and begin to fall on Friday.
The Connecticut River at Thompsonville is forecast to crest on Wednesday night to just a half a foot above flood stage.
The Connecticut River at Hartford is expected to crest sometime late today around 20 feet, Flood stage at Hartford is 16 feet.
Riverfront Park in Glastonbury is closed due to the flooding and Great River Park in East Hartford is almost completely flooded.
At 20 feet, the National Weather Service says flooding is expected along the river in portions of Wethersfield, Glastonbury, Rocky Hill and Cromwell. The high waters will disrupt some cross river ferry services. Upstream of Hartford, flooding will continue to affect portions of Windsor. Immediate river roads may become impassable in all of these communities. Further downstream flooding will continue to overspread sections of Portland, Middletown as well as Chester.
Route 17A in Portland is closed at the Porland Fairgrounds due to flooding.
The Connecticut River at Middle Haddam is expected to crest around 9 feet. Flood stage at Middle Haddam is 7 feet. According to the National Weather Service at this minor flood stage, flooding impacts the Middletown Marina and Meadow Farms. In Cromwell, portions of River Road will be closed. In Rocky Hill, parts of Meadow Road will be impassable for a time. Flooding continues along the river southward through Essex.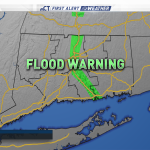 NBC Connecticut First Alert meteorologists are tracking rounds of heavy rain Friday into Saturday. A couple of inches of rain would aggravate the river flood situation (smaller rivers will also have to be watched closely) as the rounds of heavy rain develop with our next storm system.