Some of the pieces are coming together for a Friday morning soaker though it is by no means a certainty. A small area of low pressure called a mesolow is going to scoot toward Connecticut but it's track is still not clear. Virtually all of our computer models show this feature to various degrees around daybreak but a few miles will make a big difference between a soaker and a few showers.
These things are fickle. Unlike a large winter nor'easter these lows are very small, can be difficult to predict, and can form with little advance notice as they're primarily driven by complex interactions with thunderstorms. For example, the mesolow could easily form 200 miles farther south in an area of deeper convection over the Gulf Stream delivering us virtually no adverse weather.
The track of the low is critical. In a very narrow area just north of the low a substantial amount of rain is possible. Along a warm front moist air from the ocean will be forced to rise rapidly resulting in heavy precipitation (very deep warm cloud depths also increase the risk for very heavy rain). This band will likely be relatively stationary and it's the kind of setup than can produce 2"-4" of rain in a short period of time. Is it over central New Jersey or is it over New Haven? I don't know.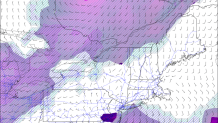 In addition to heavy rain there is the potential for severe weather along and just south of the warm front. Very strong shear and modest instability in the warm sector could promote severe storms. At this point that will most likely be over the Atlantic Ocean but it's awfully close to tickling the south coast and Long Island. We like to call this a "Sunrise Surprise" with these warm fronts draped along the coast.
Stay tuned for more on this one!