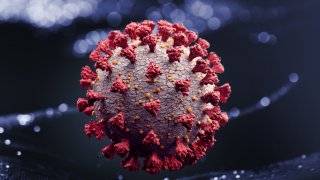 Gov. Ned Lamont announced the launch new community resources aimed at helping the state's efforts to stop the spread of COVID-19 by helping people who have the virus isolate from others.
Lamont said the state's positivity rate is 1.8 percent and the state is doing what it can to help people take precautions and not infect others.
"For the second day in a row, our infection rate is 1.8 percent, and we have more people hospitalized today, over 100, related to COVID than we've had any time since late June, " Lamont said.
The partnership is with nonprofit, such as United Way 2-1-1 and 4-CT, to support people in need who are asked to isolate or self-quarantine because of a positive COVID-19 test or potential exposure to the virus
Officials released the following details on the programs and services announced Wednesday:
The Community Resource Coordinator (CRC) program: This is a public-private partnership and CRCs will work with the contact tracing team, providers and service organizations to ensure that individuals have access to food, housing, and income to stay at home. The state has partnered with five regional community based organizations to run this program, and hire CRCs locally who know their communities – and can ensure individuals get access to what they need quickly.
COVID kits for those who need to monitor their symptoms: COVID kits with thermometers, pulse oximeters, and masks will be available through CRCs for those in need who are asked to self-isolate or quarantine.
Housing support: The state is dedicating $220,000 each month to short-term hotel options for those who can't safely self-isolate or quarantine at home.
Expansion of 4-CT Cash Cards: 4-CT allocated a total of $108,170 over the next five months to cash cards that can support the basic expenses of those who may need to miss work due to self-isolation or quarantine, and may not be eligible for unemployment insurance.
Food assistance: With the support of 2-1-1 and local community teams, CRCs will help connect those in need to local food pantries and delivery services in their community.
Lamont said that the state will help people who are positive find housing if they cannot isolate from others in their home or live in multi-generational homes.
Lt. Governor Susan Bysiewicz said support is available to people throughout the state. If people who test positive need help to find a place to stay to keep family or co-workers healthy, they call 211 to get help, she said.
Gov. Lamont was joined by several state officials including Lt. Gov. Susan Bysiewicz, Mayor Luke Bronin, and Public Health Acting Commissioner Dr. Deidre Gifford.
"The resources that the state is providing for individuals who may have come in contact with someone with COVID or tested positive will find these services helpful especially for those who will be required to quarantine and will hopefully help the state keep the positivity rate down," said Dr. Ajay Kumar, chief medical officer at Hartford HealthCare.
Officials said contact tracers reach out to people who test positive and those who have been in contact with them. Then, people who need to quarantine with be connected to a community resource coordinators to provide assistance to people who need some help with things like getting groceries and medication.
Hartford Mayor Luke Bronin said those who test positive need to protect their community and isolate while getting healthy and residents will be supported through it.
"That is a critical commitment to you," Bronin said.
The state is contracting with one organization in each Division of Emergency Management and Homeland Security region to facilitate the Community Resource Coordinator program. The organizations are:
Region 1 (Lower Fairfield County): Southwestern CT Agency on Aging (SWCAA)
Region 2 (Greater New Haven): Gilead Community Services, Inc.
Region 3 (Greater Hartford): Community Renewal Team (CRT)
Region 4 (Eastern Connecticut): Thames Valley Council for Community Action (TVCCA)
Region 5 (Western Connecticut): New Opportunities, Inc.