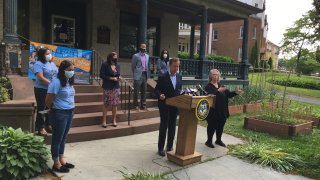 The governor announced that help will be coming for undocumented immigrants in Connecticut who are not eligible to receive federal assistance.
A public-private partnership will provide economic relief for undocumented residents through a 4-CT Card, a debit card, and the amount that will be on the card will depend on the circumstances of the family.
4-CT announced it is donating $1 million in support through a 4-CT Card to get them to people in need. The organization is calling for people to make donations.
"This is a really important program," Gov. Ned Lamont said.
According to the governor's office, the federal Coronavirus Aid, Relief, and Economic Security -- or CARES -- Act, which provides emergency assistance to people impacted by the COVID=19 pandemic excludes relief for residents who are undocumented and any U.S. citizen who files taxes with an undocumented spouse or partner. It also denies emergency benefits to the U.S. citizen children of these parents.
The governor's office said there are approximately 140,000 undocumented people living in Connecticut, making up 3.8 percent of Connecticut's population and 4.9 percent of the state's workforce. Around 190,000 people, including 60,000 children, live in households where there is at least one undocumented person, according to the governor's office.
The cards are expected to be distributed in the next couple of weeks.
The 4-CT Card will provide one-time payments to families and the cards could be brought to community health centers to receive gift cards to help pay for expenses like food and clothing. Individuals receiving the prepaid cards can be offered health services, including COVID-19 testing that they might otherwise not receive, according to the governor's office.
The governor's office said the plan includes $2.5 million in state funding that will be made available to provide rental assistance to people who are ineligible for similar aid by the CARES Act. The program is being developed and the Connecticut Department of Housing will administer it.
The assistance comes as many businesses have been closed since March due to the coronavirus pandemic and that has had a major impact on the state's economy and residents who are out of work.
According to the latest report from the U. S. Department of Labor, Connecticut has one of the highest unemployment rates in the country, at 18 percent.
The state Department of Labor said it has provided more than $1.8 billion in unemployment benefits since the COVID-19 pandemic began.
The first phase of reopening the state started on May 20, which has allowed some businesses to resume operations.
The governor will be holding the briefing at 9 a.m. at Make the Road Connecticut in Hartford.