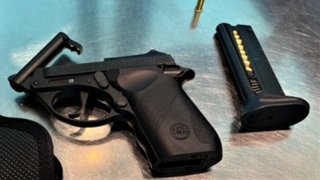 A Greenwich woman was found with a loaded gun while bringing her child through a security checkpoint at John F. Kennedy International Airport in New York Friday, according to TSA.
Transportation Security Administration said the woman did not have a ticket for a flight, but she did have a "gate pass" from the airline to allow her to escort her child through the checkpoint and to the gate.
When the woman entered the security checkpoint, a .22 caliber gun loaded with nine bullets, including one in the chamber, was found in a carry-on bag and Port Authority Police confiscated the gun and arrested her, according to TSA.
They said the penalty for carrying weapons recently increased to a maximum of $15,000.
TSA said passengers are allowed to travel with firearms in checked baggage, but they must be unloaded then packed in a hard-sided locked case.  The locked case should be taken to the airline check-in counter to be declared.