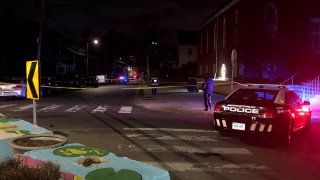 Hartford police have identified the suspect and victim in a deadly shooting Wednesday night.
Officers were sent to the area of Babcock Street after dispatchers received a call about an unresponsive male in a car and they found a man in his 30s suffering from a gunshot wound.
Detectives said life-saving measures were taken at the scene before transporting the man to an area hospital, where he was pronounced dead. The victim has been identified as 31-year-old Heriberto Garcia.
The suspect, 30-year-old Daniel Lopez of East Hartford, is in custody. Police have secured an arrest warrant charging him with murder, criminal possession of a firearm, and threatening in the first degree. He was held on a $1.5 million bond.
The road was closed for a period of time, but has since reopened.
Anyone with any information about the case is asked to call the HPD Tip Line at 860-722-TIPS (8477).