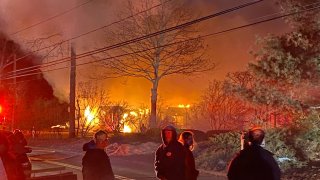 Fire crews responded to a large structure fire on Forest Hills Drive in Farmington.
There was a large fire official presence at the scene as crews worked to put out the blaze.
Police said no injuries were reported.
Newington fire officials said they provided station coverage for Farmington. Several nearby fire departments responded to the scene.
Farmington firefighters had issues establishing a water supply and called the strike team for help. The Lost Acres Fire Department said water supply was established by a pumper relay with a large diameter hose.
The house was reported to be a total loss.
No additional information was immediately available.