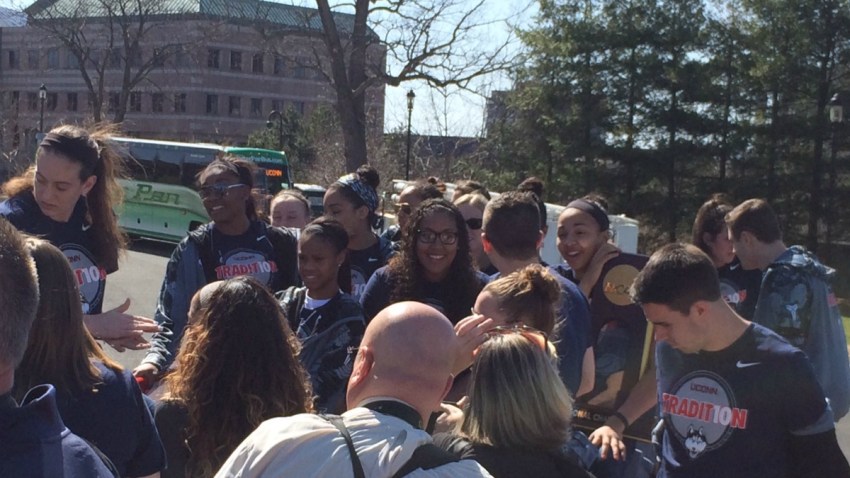 March Madness may be over, but UConn's celebration has not after winning their third straight national title and 10th NCAA championship.
Hartford was brimming with Huskies pride as thousands of fans lined the streets on a sunny Sunday afternoon to watch the women's basketball team's victory parade pass through the capital city, followed by a rally.
"I'm feeling happy and I'm so excited to see the parade because I love music and basketball," Ma'Kayla Todd, of East Hartford," said.
UConn's championship win over Notre Dame in Tampa, Florida marks the 10th national title for the Huskies and the third one in a row.
"It couldn't get any better, the girls, 10, 10. Love it!" Pat Barnett, of Canton, said.
UConn seniors said it's a great way to leave.
""We just want to thank you guys for coming out today," UConn's Kaleena Mosqueda-Lewis said. "We really appreciate that. The past four years your guys' support has been great."
The victory also means that Coach Geno Auriemma is tied for the most tournament wins. The crowd was hopeful more titles and parades are in the team's future.
"30 years ago no one ever thought this was possible and here we are standing here trying to tell you if we keep doing this the right way, you keep supporting our university the right way, nothing is impossible. We just proved it," Auriemma said.
Their fans were filled with enthusiasm and compliments.
"I love them all. I really do. I mean there's not one better than the other. They're just wonderful," Louise Berchulski, of Middletown, said.
City crews were up before the sun to get the parade route ready and put up National Championship banners. The parade started in front of the state capitol building, headed down Elm Street and looped around Bushnell Park before ending on Trumbull Street in front of the XL Center.
Head coach Geno Auriemma, U.S. Sen. Richard Blumenthal (D-Connecticut), U.S. Sen. Chris Murphy (D-Connecticut), Gov. Dannel P. Malloy, Lt. Gov. Nancy Wyman, players and Auriemma's grandson addressed the roaring crowd at the rally.
The parade featured high school marching bands, the UConn cheerleaders and band, and, of course, the women's basketball players and coaches. About 30 organizations are participated in the parade.
Several businesses in the Hartford Business Improvement District financed the festivities.
There was plenty of parking around the parade route. Uber is also offering two trips beginning and ending in downtown Hartford for up to $25 each way through its app between 11 a.m. and 7 p.m. if you enter the code "connchamps."
The CTfastrak will also be running its usual Sunday schedule as another option for UConn fans to get to the parade without having to worry about parking. The 101 bus runs every 20 minutes and 102, 121 and 128 leave hourly. Click here for more information on the CTfastrak bus schedules.