Today's icing caused many schools to either delay or cancel classes. You can find an updated list of school cancellations and delays by clicking here.
NBC Connecticut meteorologists have issued two First Alerts for wintry weather on today and Thursday.
The first weather system moved in this morning, resulting in freezing rain for inland Connecticut and a cold rain for coastal areas. Freezing rain will transition over to plain rain from south to north with the longest icing occurring in the northern hills.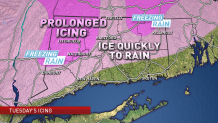 Showers continue tomorrow with mild temperatures. Highs tomorrow will be in the low to middle 50s.
Then our attention turns to the potential for a much bigger storm on Thursday.
Confidence is increasing for a significant snow storm. The setup shown below which the majority of our computer models are showing would result in plowable snow for the entire state.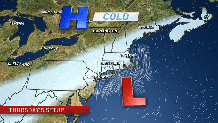 Check back on the NBC Connecticut app for updates.