There's going to be a lot going on over the next 3 days. Tomorrow's weather concern is ice, Wednesday's excitement is warmth, and Thursday's trouble is snow. Let's take it one day at a time.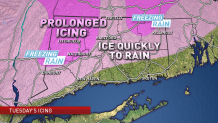 The storm that is moving in tomorrow is only a shell of its former self. Sort of. Last week our computer models showed a powerful storm tracking near Toronto with all sorts of heavy precipitation moving into New England. That's no longer going to happen. Lighter amounts of rain will move in Tuesday morning but the problem remains that temperatures will be near 32 degrees as the rain begins.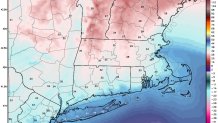 Temperatures above our heads will be well above freezing tomorrow - but at the ground a stale layer of cold air will be tenacious. There's a lot of inertia when it comes to dislodging cold and tomorrow won't be any different. As rain falls temperatures near the ground will be at or just below 32 degrees. For many areas just away from the Sound this could be an issue around daybreak with a few light showers. All it takes is a tiny bit of precipitation to ice up untreated surfaces!
While temperatures in the valley locations will warm above 32 degrees by midday the temperatures in the hills will not. In fact, it looks like a prolonged period of icing will occur in the Northwest and Northeast Hills where 0.1 to 0.25" of ice accretion is possible. Even by 7 p.m. tomorrow the NCAR ensemble model shows a >50% chance of temperatures below freezing for many places over 500 feet of elevation.
This is not enough ice to cause power outages but is enough to make any untreated walkway or driveway really slick.
Brief period of icing possible in many areas around the morning commute. Treated roads will generally be OK but any untreated areas will be slippery.
By mid-late morning most valley and shoreline locations will be above freezing.
Prolonged freezing rain is expected in the hills tomorrow - and temperatures in some areas may never climb above 32 degrees. Thankfully ice accretion amounts should not be enough to cause tree or power line issues.
As for Wednesday - the cold at the surface will mix out allowing temperatures to spike. 60 degrees is not out of the question in some areas but right now we're predicting highs in the 50s.
I mentioned above that Tuesday's storm has become much less impressive over the last several days. One consequence of that is that a second piece of energy is able to swing far enough north to clip us with snow. Had the Tuesday storm been stronger the storm track would have been hundreds of miles farther south.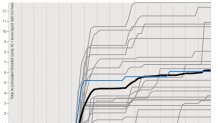 Unfortunately, there's not much we can say about the Thursday storm other than accumulating snow is a possibility AND the storm as a reasonable shot of being decent (i.e. more than 4"). This storm is producing an unusually large spread of possible outcomes on our computer models. Take for instance the GFS ensembles (the GFS model run with slight tweaks 20 different times to show a range of possible solutions) which show a HUGE spread. Anywhere from 0" to 10" of snow for Hartford.
That's about as detailed as we can get about this one - there's the potential for snow but I have no idea if it will be a big storm or we get brushed by with a few flurries or period of light snow. Small tweaks and changes in the jet stream pattern will mean a lot here. I get that a forecast of "we don't know yet" is annoying but as a scientist there's really not much more I can do at this point. This storm is showing a really unusual amount of spread in possible solutions.
As we like to say in TV... stay tuned!