Interstate 95 north in New London has reopened after a tractor-trailer jackknifed on Sunday.
State police said a tractor-trailer struck the railing and jackknifed across all but one lane of the highway.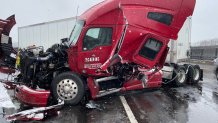 State Dept. of Transportation officials said only one lane was open between exits 83 and 85. It has since fully reopened.
According to state police, there was a diesel spill and the Dept. of Energy and Environmental Protection responded to the scene. A Dept. of Transportation worker is made a dam to keep the diesel from reaching the catch basin.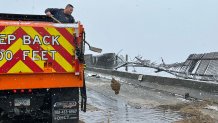 No injuries were reported.