4PM Update: Hurricane Jose is roughly 280 miles to the south of Southern New England. Winds are currently sustained at 75 mph.
Jose is still expected to track approximately 125 miles to the southeast of Nantucket.
Connecticut will only experience some fringe effects especially for the southeast corner.
Winds are currently gusting over 30 mph in southern New London county. Wind gusts will gradually pick up throughout the night with gusts up to 45 mph along the southeastern Connecticut shoreline.
Waves are becoming quite large just over the Connecticut border in Rhode Island. Waves are currently 6 to 8 feet, waves heights will increase by tomorrow morning with waves of 10 to 14 feet expected.
____________________________________________________________
Hurricane Jose is limping north, battling dry air and strong wind shear.
The National Hurricane Center dropped all Tropical Storm Watches as of 11 a.m. on Tuesday.
Hurricane Hunters flying through the storm haven't even been able to find hurricane force winds in the system. As the storm moves north, we will see some impact here locally but I'm not expecting much.
The storm will pass a bit east of where I expected it would on Sunday night. That will result in less wind and less rain than previously expected. We anticipated a minor to moderate impact locally and now we are confident in just a "minor" impact. This is why we show the "cone of uncertainty" as Jose will track on the east side of last night's cone, which was always a distinct possibility.
Rain will fall off and on Tuesday as the outer bands of Jose rotate in. Occasional squalls of wind and rain will be common throughout the day and evening. Up to 1 inch of rain is possible in most towns with a bit more in southeastern Connecticut. Winds may gust as high as 30 or 35 mph Tuesday afternoon and night.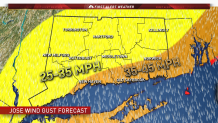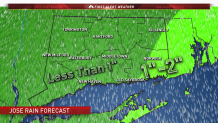 As the storm pulls away Wednesday rainfall will diminish but the winds will pick up. I expect the strongest winds will occur on Wednesday morning and midday as the storm pushes east. Gusts as high as 45 mph are possible in southeastern Connecticut with scattered tree and power line issues possible.
Another piece of good news is that the coastal flood threat remains quite low as winds will be mainly offshore.
While winds remain gusty on Wednesday afternoon, clouds will gradually break and much better weather will move in for the end of the week.