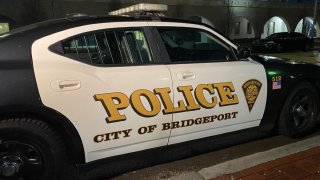 A 23-year-old New York man is in critical condition after being shot in Bridgeport Wednesday night.
Officers responded to a home on Hancock Avenue just before 8 p.m. and found the victim suffering a gunshot wound to the stomach, according to police.
The man was rushed to the hospital, police said.
Investigators identified the suspected shooter as 28-year-old Faruq Ishan Santos. They used city cameras to track Santos to the Greater Bridgeport Transit Bus Station where they arrested him.
A woman who was with Santos was also arrested. According to police, 19-year-old Vernaje Marie Hoheb had the .40 caliber gun believed to have been used in the shooting.
Santos is facing a number of charges, including first-degree assault, illegal discharge of a firearm, risk of injury to a minor, illegal alteration of a firearm, carrying a pistol without a permit, and criminal possession of a firearm. He is being held on $250,000 bond and is scheduled to be in court Thursday.
Hoheb is charged with carrying a pistol without a permit, interfering with a police officer, and illegal alteration of a firearm. She is being held on $50,000 bond and is also scheduled to appear in court Thursday.