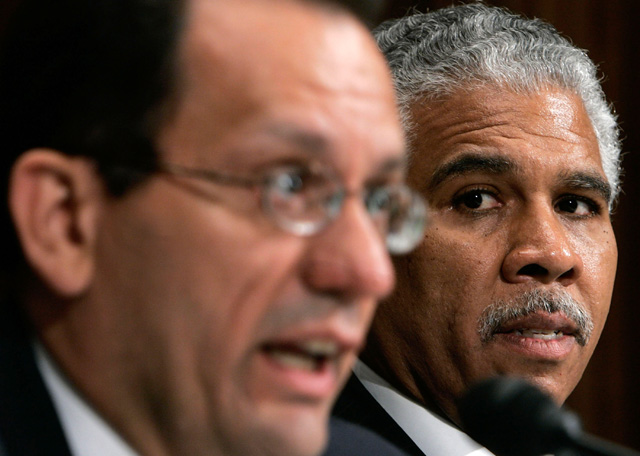 Hartford Mayor Eddie Perez's trial on bribery and extortion charges will remain in the capital city, a judge ruled Tuesday.
Hartford Superior Court Judge Julia DiCocco Dewey denied the mayor's motion for a change of venue and several other requests, clearing the way for jury selection to begin Monday and a trial on extortion and bribery charges to start May 11.
Hubert Santos, Perez's lawyer, argued that pretrial publicity and an anti-Hartford bias by residents of surrounding towns would make a fair trial impossible.
Santos also said potential minority jurors might not serve because of the length of the trial.
The judge said she sees no evidence of a circus atmosphere surrounding the trial. In addition, she told Santos that potential minority jurors would be called from the same community as everyone else.
"You're presuming minority residents of Hartford County don't work in insurance companies, are state and municipal employees, work at Pratt & Whitney and private business," she said. "They're working there as well."
Dewey also rejected requests by Santos to postpone the trial on extortion charges and the right to raise more challenges to potential jurors.
She agreed in November to combine two criminal cases against Perez into a single case. He has pleaded not guilty to allegations he tried to extort $250,000 from a real estate developer and accepted a bribe from a city contractor who renovated his home.
Perez's lawyers argued that combining the cases would deny him of his right to a fair trial because the result will be what they say is an extraordinarily complex case.
The mayor and Abraham Giles, a former state lawmaker, are accused of trying to extort money from a real estate developer. They were charged last year with attempted extortion and conspiracy.
Santos asked that the trial on extortion charges be postponed until the prosecution of Giles has ended. He said Giles could refuse to testify, citing his Fifth Amendment right against self-incrimination, and would therefore be unable to participate in the trial.
"We're fighting the extortion case with one hand tied behind our back," Santos said.
A message seeking comment from Giles' attorney, John Kelly, was not immediately returned. A phone number listed for Giles was no longer in service.
Michael A. Gailor, executive assistant state's attorney said Giles could make the same argument about Perez, requesting a postponement.
"It would complicate things beyond what we have now," he said.
Dewey rejected Santos' request, saying that if Giles is unavailable for the defense, he also would be unavailable to the state.
Perez, who has steadfastly insisted he will not resign, said after the hearing that he is looking forward to his day in court.
"All I want is a fair jury in my backyard," he said.

Copyright AP - Associated Press