Connecticut State Police are looking for three men who stole about $7,500 in merchandise from a beauty supply store in Lisbon.
Troop E said they're investigating a robbery that took place at Ulta on Oct. 9 at approximately 8:30 p.m.
Officials said the three men were in and out of the store within a minute. They allegedly went to one location inside the store and filled their bags with high-valued items.
In an interview with NBC Connecticut, state police said the men are possibly linked to 14 other thefts at Ultas in the region with around $200,000 stolen.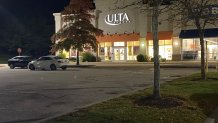 "While we have measured precautions in place, organized retail crime is unfortunately becoming more common and more violent across the country. We actively cooperate with police in their investigations and hope they, with support from the public, can bring these criminals to justice," an Ulta spokesperson said in a statement.
Authorities said the individuals got into a newer style white or silver sedan. They were wearing hooded sweatshirts and masks, police said.
The Ulta spokesperson said the safety of their associates and guests is the highest priority and they're fully cooperating with local law enforcement.
"We are thankful no one was harmed and will continue to work to ensure our stores are safe destinations for all," the spokesperson said.
Anyone with information is asked to contact Trooper Brett by calling 860-848-6500 or emailing Christopher.Brett@ct.gov. All tips can remain confidential.