Thousands of guns stolen from communities including Cheshire, Bloomfield and Glastonbury, are turning up at crime scenes throughout the state and country.
Earl Wilson vividly remembers the afternoon his 10-year -old daughter, Ariana, was shot. The 11 shots fired at the Wilson family's home in Hartford were intended for a relative who lived somewhere else, but a 9mm bullet struck the young girl's head. It was fired from a handgun reported stolen months earlier from an unlocked car in Glastonbury.
The weapon used in the Wilson shooting is one of nearly 1,000 guns the NBC Connecticut Troubleshooters identified as stolen from Connecticut gun owners over the last seven years, according to local police records. The true total number of missing and stolen guns statewide is likely to be much higher because most police departments we contacted for records have yet to provide them.
Other stolen guns include a semi-automatic pistol that was stolen from a car in a Cheshire driveway and recovered after a robbery at a West Hartford shopping mall. Two handguns, out of 14 reported missing from a Bloomfield home, were recovered at two separate crime scenes in Hartford. The other 12 guns are still missing. A pistol left in the bed of a Glastonbury resident's pickup truck turned up four years later at a Hartford homicide.
Connecticut is not the only state where guns that had been stolen were later used to commit violent crimes. The Troubleshooters partnered with NBC Television stations across the country and the Trace, a journalism non-profit organization, with a goal to match stolen guns to crimes. Together, we used serial numbers to identify more than 23,000 stolen guns from coast to coast. The vast majority of them were connected with crimes, including more than 1,500 that were used during acts of violence such as carjackings, armed robberies, and murders.
Kevin O'Keefe, the chief of Operational Intelligence for the U.S. Bureau of Alcohol, Tobacco and Firearms, said stolen firearms are in demand on the black market. He said that is partially a side effect of strict gun laws in states like Connecticut that are aimed at keeping weapons out of the wrong hands, and he said this is making legally-owned guns more valuable to thieves.
"Where laws make it more difficult to possess firearms or register firearms with local authorities, we see guns sometimes going for double and triple in price," O'Keefe said.
However, in Connecticut, criminals are unlikely to face punishment for stealing a gun. In fact, over the last five years, charges for stealing a firearm were dropped more than 70 percent of the time, according to the report, "Case Statistics for Firearms-Related Offenses," which the state Office of Legislative Research released in January.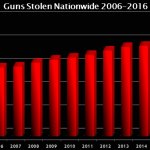 When asked about the low conviction rate, the state's attorney's office explained prosecutors often agree not to pursue the stolen gun charge when plea bargaining.
Scott Wilson, president of the Connecticut Citizen's Defense League, a gun rights organization, said tougher enforcement of the existing law, which carries a minimum two-year sentence, could help deter thieves.
"I do believe there are certain violent criminals who would maybe start calculating as to whether or not stealing a firearm, or walking around with a stolen firearm, is worth their time," Wilson said.
Nationally, the number of thefts is rising year after year. More than two million guns were stolen between 2005 and 2016, according to data from the National Crime Information Center (NCIC), including more than 230,000 stolen in 2016.
Connecticut is one of 11 states with mandatory reporting laws requiring gun owners to report that a firearm is missing or stolen within 72 hours of becoming aware that it is gone. Law enforcement officer nationwide enter information about guns reported missing or stolen, including the make, model and serial number to a database managed by the NCIC. When a firearm is recovered, police are able to check it against the records in the hopes of finding a match.
Ariana Wilson survived her wounds after three days in a medically induced coma. Her favorite seat in their home is still the same sofa where she was when she was shot. Her father, Earl, hopes his family's close call will serve as a reminder to gun owners to keep their firearms secured.
"Make sure that you are responsible for that at all costs," he said.