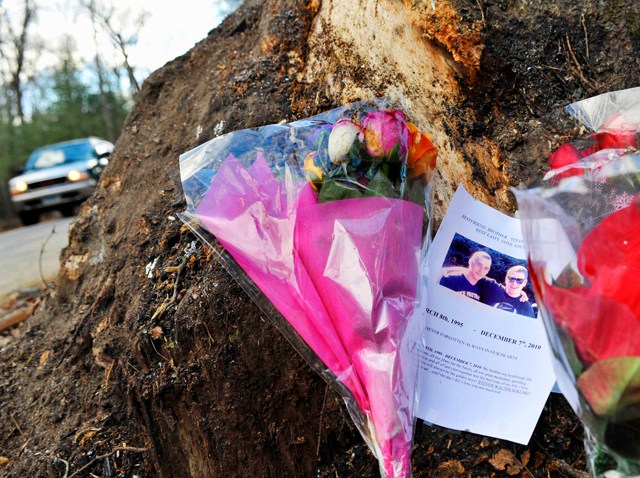 Four Griswold High School students are dead and one is in critical condition after a car crashed into a tree just a few miles from the school on Tuesday afternoon.
Everyone in the car was 15 or 16 years old and the driver, John Clapper, 16, had only a learner's permit. He obtained it in August and would not legally have been able to drive a car full of teenagers, officials from the Department of Motor Vehicles said.
Clapper lost control of the car and struck a tree on Route 201, near Route 138, in Griswold, around 4:30 p.m., police said.
Sativa Cornell, 16, Steven Skzlarz, 15, Dillon Clifford, 16, and Clapper were killed in the crash.
Joel Gallup, 16, is hospitalized with incapacitating injuries. Clifford would have turned 17 on Friday.
Sativa was in the front passenger seat and Clapper was driving a car registered to her mother, officials said.
Sativa only received her license in October and also would not have been allowed to drive the group either.
According to Sativa's MySpace page, she was dating Clapper and he was the love of her life.
The deaths are a tragedy for Griswold High School and many have been posting messages of condolence on a Facebook page set up to remember the teens.
Jess Drager, 16, lives down the street from John Clapper's family and called him a "big-hearted guy who would do anything for anyone.
Jordan Robillard, 18, is in shock over the loss.
"I lost a close friend last summer. I've known Johnny all my life," Robillard said,
Tonight, people who knew the students will gather for a vigil at 6:30 p.m. at the gazebo on Ashland Street in Jewett City.
Police continue to investigate.
"They're going to look at all aspects of the road, the weather, the conditions," Trooper Kelly Grant, of State Police said. "They're doing a very thorough investigation."
School administrators were preparing to have grief counselors available to talk with classmates as students arrive for classes Wednesday, according to Griswold School Superintendent Dr. Paul Freeman.
The crash occurred as Connecticut marked Teen Safe Driving Week, and a day after transportation officials announced that fatal crashes in the state were at a 12-year low among 16- and 17-year-old drivers.
After several high-profile tragedies, Gov. M. Jodi Rell had created a task force on teen driving, which recommended more stringent laws that state lawmakers passed in 2008.
They included moving the teen driving curfew to 11 p.m. and doubling the amount of behind-the-wheel training required for teenagers.

Copyright AP - Associated Press