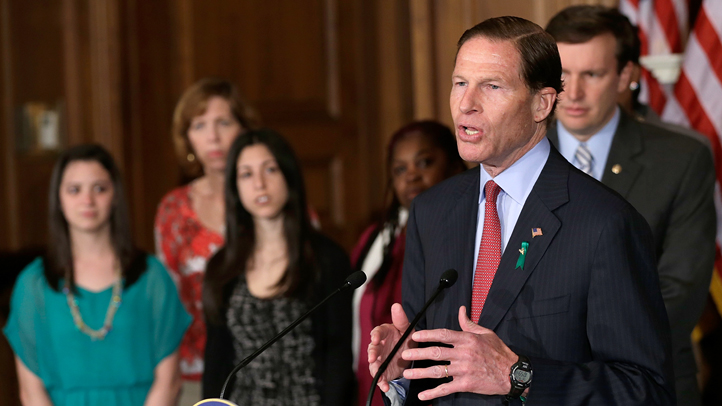 The stories of the teachers and students killed in the Newtown school shooting were alive on Capitol Hill Thursday morning, recalled by their family members and lawmakers moments before the first crucial vote on federal gun legislation conceived in the aftermath of the December massacre.

U.S. Sen. Chris Murphy (D-Conn.) recalled 6-year-old Dylan Hockley, who died in the arms of his "beloved" special education aide. He and fellow U.S. Sen. Richard Blumenthal (D-Conn.) read the names of the 26 victims killed in the attack. Blumenthal paused to point out that, "these names are people whose funerals and vigils I've attended," and people whose lives and families he has come to know over the past four months.

The relatives of two victims—Sandy Hook principal Dawn Hochsprung and teacher Victoria Soto—were also on hand to make a final plea for a vote, which had been threatened by some Republicans who had vowed to filibuster.

"We are allowed to have some peace of mind that our loved ones didn't die for no reason," Jillian Soto, Victoria's sister, said. "They deserve to have died for a reason."

Their presence in Washington this past week is part of a wider effort by gun control advocates to keep the memories of the victims killed in the Connecticut attack at the forefront of lawmakers' minds as they begin debate on the first major gun control bill to reach the Senate floor in years.
Sen. Blumenthal credits the families' meetings with lawmakers in Washington this week for the outcome of Thursday's session. The Senate voted on Thursday to begin debate next week.
"The Newtown families had a profound effect," Blumenthal said in an interview. "Their presence really turned the tide. Their faces and voices were absolutely pivotal."
"There's nothing so powerful as listening to the stories of their experiences," he added.

Those stories were told and retold this week, begining Sunday evening, when more than a dozen parents and relatives of those killed at the elementary school shared stories and photos of their late loved-ones on an emotional "60 Minutes" segment. It continued Monday in Hartford, Conn., where President Barack Obama commended the state for passing some of the toughest gun laws in the country and urged federal lawmakers to heed their example.

"This is not about politics," Obama said. "This is about these families and families all across the country who are saying, 'Let's make it a little harder for our kids to get gunned down.'"

Eleven Newtown residents, tragically linked to the school shooting, then traveled with the president aboard Air Force 1 to Washington, where they fanned out to meet with lawmakers as the first rumors of filibuster began to swirl.

Some took their campaign to social media.

Erica Lafferty, the daughter of Sandy Hook principal Hochsprung, tweeted the names of senators who would not return her calls: "Paul, Lee, Cruz, Rubio, Moran, Inhofe, Burr, Johnson, Enzi, Risch, Crapo, Coats, Roberts and McConnell – call me back! IM NOT GOING AWAY!" she wrote beneath a picture of her and her mother.
She later told the New York Times that Texas Sen. Ted Cruz (R-Texas) was the only one to call her back. "I asked him what he thought would have happened if my mom chose not to do her job," Lafferty told the Times. "How many more people would have died if my mom had chosen to hide."

Cruz voted against continuing debate, though Sen. Richard Burr (R-N.C.) voted to proceed.

The proposed legislation, which includes a bipartisan agreement on background checks announced Wednesday, cleared the first important hurdle Thursday, but still faces an uncertain road ahead. Lawmakers voted 68-31 to proceed with debate though it's unclear whether the bill will receive the necessary votes next week when the stakes are higher.

Chuck Schumer (D-NY), who joined Blumenthal and Murphy Thursday morning, expressed concern over "pernicious amendments trying to undo the good things we're trying to do." He said he was particularly worried about a "reciprocal concealed carry" amendment Republican Senators may try to tack onto the bill in exchange for their vote.

The bill's fate also came under attack from the National Rifle Association, which released a letter Wednesday night warning lawmakers that "votes on all anti-gun amendments or proposals will be considered in NRA's future candidate evaluations." The letter, signed by NRA lobbyist Chris Cox, added that the group would "oppose any amendments offered to [the legislation] that restrict fundamental Second Amendment freedoms … This includes the misguided 'compromise' proposal drafted by Sens. Joe Manchin, Pat Toomey and Chuck Schumer."

Still, Schumer expressed optimism that special interest groups working to block gun control measures have "reached their peak and will be on the decline" and insisted that the family members of Sandy Hook victims who have traveled to Washington this week to garner support for the bill are having an impact.

"With the candles you have lit in honor of the ones you've lost, the light is returning to Washington," Schumer told the family members who joined him on the Senate floor Thursday. "Because you've forced senators and congressmen to look into your eyes and see what's going on, I believe now that there will be a decade of light."

Newtown families were scheduled to leave Washington Thursday afternoon, after what they called a successful trip.

"As hard as it has been for us to make this journey, it was truly worthwhile and gives us the strength to return to participate as the debate progresses," they wrote. "We believe that transformation can spring from the depths of tragedy. We hope we can look back on today as the first step."