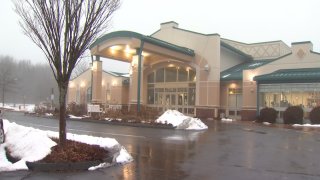 A total of nine catalytic converters were stolen from the Enfield Senior Center early Thursday morning.
The Enfield Town Manager said Magic Buses were vandalized and thieves got away with the catalytic converters.
Officials said the Public Works department was able to get three vans back up and running and service was able to resume Thursday afternoon.
"It's really demoralizing when you figure that it's the people who need the services the most that were adversely affected, and also points to some of the issues about competing interests in budgets," said Interim Town Manager Ellen Zoppo-Sassu.
Police are investigating the incident. They say the theft occurred sometime before 6:30 a.m.
"We estimate that it is about $2,000 per vehicle for repairs. That will obviously change if there's damage to the exhaust systems or anything else that might have been taken out, you know, in a rush and damaged but we're looking at about an insurance claim of about $22,000 right now," Zoppo-Sassu said.
"So we will be investigating having a gated secure area for those vans, two of which were brand new, and also having surveillance and hopefully we can lay this in the future. Most of our other municipal facilities are secure so we have not had this happen before and hopefully this will be the only time it happens here," she continued.
The public is encouraged to call police with any information. Area residents are being asked to check exterior camera footage for anything out of the ordinary.
The buses run through Enfield including stops at the Enfield Square, Elm Plaza, town hall, the senior center, Asnuntuck Community College, and more, according to their website.
For more information about Magic Buses, click here.