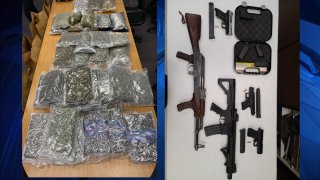 New Haven Police have arrested a man accused of attempted murder after finding him in possession of guns and a large amount of drugs inside his home, officials said.
The U.S. Marshals Violent Fugitive Task Force District of Connecticut arrested 26-year-old Joshua Williams on an active arrest warrant out of New York, according to authorities.
Police said they found the following items inside his home on Melrose Drive: an AK-47 assault rifle with extended magazine, two handguns with extended magazines, 40 pounds of marijuana, over 50 oxycodone pills, and a bulletproof vest.
New Haven Police said Williams was safely taken into custody.
Williams was arrested of fugitive of justice charges and was held on a $1 million bond. He was arraigned on Wednesday.