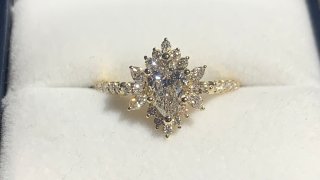 New Milford police are reaching out to the public for help to find a lost diamond engagement ring and get it back to the person to whom it belongs.
The diamond ring was left on the sink at the Cumberland Farms at 376 Danbury Road between noon and 1 p.m. Sunday.
Police said the ring has a pear-shaped .82 carat diamond and the serial number LG12098907 is etched into the piece of jewelry.
Police ask that you bring the ring to the New Milford Police Department if you find it.