The streets of Norwich will be filled with thousands of people Saturday all ready to share in holiday cheer as part of the 31st annual Winterfest Parade.
New this year, the parade route was changed to bring it into downtown because of the cost of closing roads for the old route—the parade is funded by donations – plus organizers hope it gives downtown businesses a boost.
"What's great about that is people who may not necessarily be here might say, 'Oh this is a really amazing coffee shop, I'm going to come back.' 'This is a great restaurant, we'd like to come back and have dinner sometime,'" said Miria Toth, treasurer of the Norwich Events Organization that's organizing the Winterfest Parade.
Between 2,000 and 3,000 people are expected downtown for the event. This year's theme is "Vintage Christmas."
Matthew DuTrumble opened Craftsman Cliff Roasters about six months ago and is looking forward to the extra foot traffic.
"I think this is exposing the downtown to a lot of people who might not have been here for a couple of years. See all the energy and things that are happening down here," DuTrumbull said.
There's also more community participation with close to 60 community floats—more than last year.
"Kicks off Christmas season here in Norwich," said Winterfest Parade Committee Chair Dana Dowdell, adding also for the first time, kids are judging the parade.
"We like to have events that are free for the community, that are good family events, that bring people into the downtown," Toth said.
Norwich Events Organization also sponsored a wreath event to fill vacant storefronts with holiday cheer.
The Winterfest Parade starts at 1 p.m. The route for the parade is highlighted below.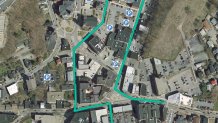 There is also the Norwich Winterfest 5K taking place Saturday morning.
For information about road closures, click here.