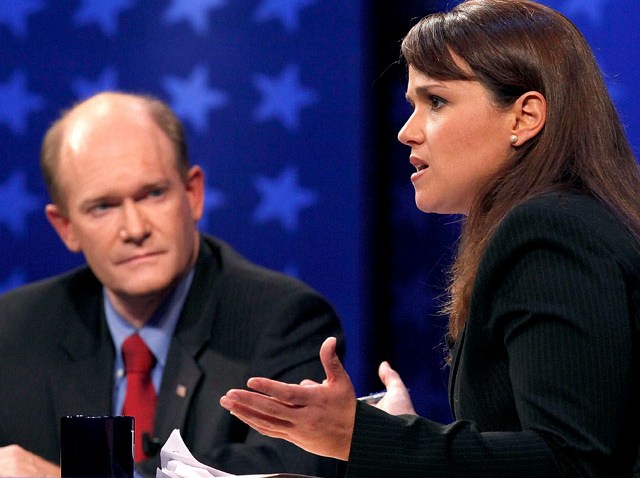 Senate candidate Christine O'Donnell went from a local Delaware pol to comedy show fodder when she talked about "dabbling into witchcraft," and her latest gaffe is an apparent inability to name a single Democratic ally.
During a televised debate on WHYY television in Wilmington, interviewers asked the GOP candidate to name a Democratic senator with whom she could work.
She couldn't, and eventually blurted out Sen. Joe Lieberman's name, who Connecticut voters are well aware, is not a Democrat, though he caucuses with the party.
That story got attention from Politico.
You can watch to the clip below. Scroll over to about the 4-minute mark, but here's the gist:
At first O'Donnell said:
"Well, she's not a senator anymore, but I would definitely have to say Hillary Clinton. … She is someone I admire. She is someone who's had to hold her own in a man's world."
But, again, Clinton is no longer a Senator and O'Donnell's opponent, Democrat Chris Coons, attacked her over an inability to name a single Democratic senator with whom she'll work. That reflects inexperience, he said.
At that point, O'Donnell threw out Lieberman's name – the name of the Connecticut Senator who lost the Democratic primary to Ned Lamont in 2006, created his own party and won the general election as an Independent, which he remains.
Coon does not react, but continues answering the question he was asked.