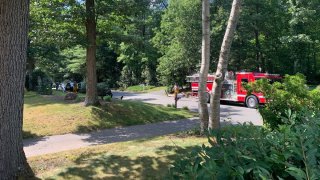 First responders were called in to help a bear cub stuck in a storm drain in Granby Thursday afternoon.
The Lost Aces Fire Department, Granby Animal Control, and Department of Energy and Environmental Protection all responded to the area of Whitman Drive near Canton Road.
The rescuers used some boards to help the bear cub up and out of the storm drain, according to DEEP.
The mama bear remained in the area and officers were able to coax her back to the spot near the storm drain where she and the cub were reunited and made their way off into the woods.