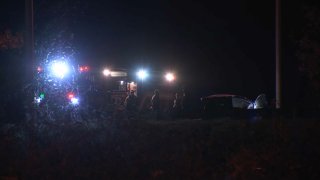 A Massachusetts man is now facing manslaughter charges after a two-vehicle crash on Interstate 91 in Nov. 2021.
Connecticut State Police said Dominic Grassetti, of Feeding Hills, MA, was driving behind 61-year-old Fernando Lebron and he crashed into him, causing fatal injuries.
State police said they learned of a two-vehicle crash on I-91 North, near the exit 48 off-ramp, in Enfield on Nov. 12.
In an arrest warrant, police said Grassetti's eyes were glassy and red, and a smell of alcohol emanated from his breath.
Officials went on to say that Grassetti appeared confused and disoriented during questioning. Officers at the scene had to repeat questions multiple times and his speech was slurred when responding, documents show.
After not completing the field sobriety test to standard, he was arrested. He's since appeared in court on that charge.
State police said Tuesday that he has been charged with second-degree manslaughter with a motor vehicle.
Bond was set at $150,000. He was released on a promise to appear and is due in court on Oct. 17.