The humidity is downright oppressive today and temperatures are well into the 80s throughout the entire state.
High temperatures coupled with high humidity is leading to heat index (what the temperature feels like) values in the low to middle 90s.
In addition to the heat we're also tracking some showers and thunderstorms as we head into the afternoon and evening.
We're forecast scattered showers and thunderstorms to develop after 4 p.m. The best chance for showers and thunderstorms is southern Connecticut.
Take a look at First Alert Future Radar at 8 p.m. You can see widespread showers moving across Fairfield and New Haven counties.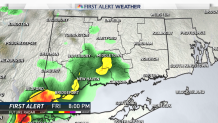 Showers will continue into the evening hours with a scattered thunderstorm possible. First Alert Future Radar showers widespread showers throughout Hartford county moving into eastern Connecticut at 11 p.m.