After months of planning and training, 1,400 cyclists made their way through New Haven and other parts of the state today, in the twelfth annual Closer to Free Ride.
One hundred percent of the money raised goes to support Smilow Cancer Hospital and Yale Cancer Center.
"This is going to be a very emotional day," Smilow Cancer patient Judy Williams said.
Judy knows the weight of the Closer to Free Ride day.
"I lost my buddy in May. She was fighting her metastatic breast cancer with me and it was great for six and a half years. We were attached at the hip," explained Williams.
Along with her friends' family, she and her daughter stood in support of staff and riders for the emotional Smilow Salute.
"She's been fighting for nine years and if it wasn't for Smilow, she wouldn't be standing here today cheering everyone on. Smilow's been a fantastic supporter in all of this," Judy's daughter, Amy, stated.
This moment is why Bill Tommins says Bank of America decided to sponsor the Smilow Salute. It's where patients, staff, and riders meet and reflect.
"It's always, I think, one of the most memorable places in the ride. I think the riders come here and really feel touched by the experience," noted Tommins.
And then they were off on one of five courses that all ended back at the Yale Bowl.
"It's a little tricky, a little hilly, but we were able to get through it," says Therean Byers of Hartford.
These three friends rode in memory of Anthony and Therean's mother.
"It was hard at first, but it couldn't be anymore hard than what she had to endure, so, you know, I thought this was a way to recognize her and challenge myself as well," Anthony Byers of Manchester stated.
Volunteers were key. The Southern baseball team were some that helped prepped for the post-ride events, while Coach Tim Shea and two players rode three miles with a flat tire.
"Finishing this ride with what cancer patients have to go through, that was nothing and I had my two wingmen by my side," noted Shea.
No matter how the 1,400 riders crossed the finish, all of them were able to relax with snacks, food trucks, and a beer garden.
"It's just been an amazing morning. We couldn't be more grateful for everyone's participation," Steve Jakab, Vice President of Development for Yale New Haven Health, added.
Several familiar NBC Connecticut faces participated in this year's Closer to Free Ride including Ted Koppy, Mike Hydeck and CT Live's Taylor Kinzler.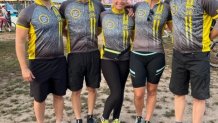 Last year, the Closer to Free ride raised over $2 million.